What does Ike Davis think about reaching the 30-homer plateau with a two-homer game Monday night?
"It's a cool milestone, I guess," Davis said. "It's something you can always tell your kids -- you hit 30 homers in the big leagues. But, obviously, if I would have hit 29 this year I still would have been happy with the power numbers, for sure."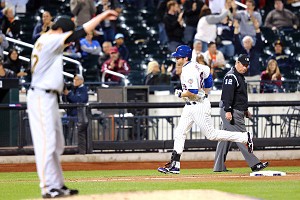 Anthony Gruppuso/US Presswire
Ike Davis homered twice in Monday's victory.Davis became the first Met to reach the plateau since David Wright (33) and Carlos Delgado (38) both exceeded it in 2008, in the final season at Shea Stadium.
Eighteen of Davis' homers have come since the All-Star break.
"The difference is I'm just not awful. The first two and a half months I was terrible," Davis said, contrasting the first and second halves of his season. "I felt like I had never played baseball before. I kept saying I'm not going to play this bad forever. I don't think it's possible for anyone to do that. You guys can pick up a stick and do better than I did. But I told you there's better things to come. I don't know if I've had the greatest season of all time, but I definitely made myself feel a little better about this season working through stuff and grinding and seeing you can come from pretty far behind and still have a pretty good year.
"I guess everyone kind of goes through something like that. I'm glad, I guess, that I did. It definitely made me a better baseball player. It was mental strength, for sure. But hopefully I don't do that again."
As for not getting demoted earlier in the season amidst his struggles, Davis said: "It was huge. My teammates were a huge part of that, too. They were always behind me, helping me out. Especially in the first half when we were winning, I wasn't doing anything. And we were still winning games. It was cool. It worked out the way it should have worked out."
Said Terry Collins: "Certainly I applaud that he didn't give up, that he stuck with his plan. I truly believe the fact that we stuck with him gave him some confidence and let him get it going. Ike's told me, 'You won't see that again.' He's told me many times, 'You will not see that first half again from me.' And, if that's the case, you tack on another five or six or seven home runs on that list because of what he would normally do in the first half, you've got huge numbers coming."