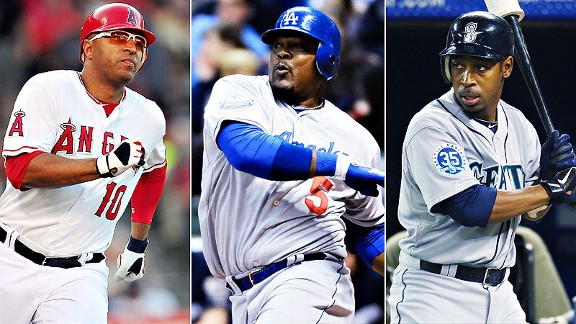 US Presswire
Vernon Wells, Juan Uribe and Chone Figgins (l to r) are among the bloated contracts around Major League Baseball.
The Mets' first task this offseason regarding Jason Bay, and for that matter Johan Santana, likely should be to see if any team has trade interest. A swap appears unlikely, though, even discounting the no-trade clause each possesses.
After all, Bay is hitting .155 with eight homers in 187 at-bats. And he is owed $19 million next season including a 2014 buyout, making it a toxic contract.
Similarly, Santana -- despite the June 1 no-hitter -- finishes the season on the DL after allowing six-plus runs in each of his final five starts. Santana is owed $31 million next season including a '14 buyout.
Still, if the Mets were to find another team with toxic contracts to swap, who is logical? With the help of reporters around baseball, here's a look …
THEY'VE GOT POTENTIAL
Angels: "Oh, you've come to the right place," our friend who covers the Angels says. "The Angels have the deadest of dead weight -- Vernon Wells. The Angels are paying Wells $21 million this year to be their fourth outfielder. They owe him $21 million more in 2013 and again in 2014."
SWAP & SHOP?
A survey of baseball's most bloated contracts:
Blue Jays: Left fielder/first baseman Adam Lind (.240, 10 HR, 40 RBIs) is owed $5 million in 2013. With buyouts of option years, the minimum owed is $7 million. "He cleared waivers at one point this season and the Blue Jays would love to get rid of his contract -- even though it's unlikely that can happen," a team observer said.
Braves: Second baseman Dan Uggla (.215, 19 HR, 73 RBIs) is owed $39 million over the next three seasons.
Cubs: Alfonso Soriano ($18 million apiece in 2013 and '14) and Carlos Marmol ($9.8 million next season) are the remaining sizable contracts.
Dodgers: The Dodgers inherited Carl Crawford ($102.5 million through 2017) and Josh Beckett ($31.5 million through 2014) while acquiring Adrian Gonzalez, but both should contribute. The least-productive contract: Juan Uribe, who finally pinch hit Sunday after going unused for nearly a month. Uribe, with one year remaining, is still owed $8 million.
Mariners: Left fielder Chone Figgins (.183, 2 HR, 11 RBIs) is owed $8 million next season. Center fielder Franklin Gutierrez (.258, 4 HR, 14 RBIs) is owed $7.5 million in 2013 with a buyout of the following season. Says one observer: "Gutierrez has been hurt or sick for most of his deal and might produce if ever healthy. Figgins is literally dead weight." Bay does live in the offseason in Seattle. And the combined $15.5 million owed to those two are close to Bay's $19 million.
Marlins: Heath Bell has two years, $18 million guaranteed remaining. He also has a $9 million option for 2015 based on games finished -- 55 the previous season or 100 combined in 2013 and '14. (The Mets have been down that route before.)
Pirates: Clint Barmes is signed for 2013 at $5.5 million. He's hitting .228/.266/.325 with eight homers.
Red Sox: John Lackey (12-12, 6.41 ERA) has two years left for a combined $30.5 million, with a 2015 club option at the major league minimum because of a preexisting elbow injury.
Twins: Nick Blackburn (4-9, 7.39 ERA) and middle infielder Tsuyoshi Nishioka -- both relegated to the minors -- are under contract for 2013 and "practically sunken cost." Blackburn is owed $5.5 million. Nishioka is owed $3.25 million including a 2014 buyout. The Twins likely would never trade Joe Mauer, despite him being owed $23 million annually through 2018.
Yankees: Alex Rodriguez to Flushing? Don't hold your breath. Still, A-Rod is owed $114 million over the next five seasons. Mark Teixeira and CC Sabathia could emerge as bad contracts, with $90 million over four seasons and $119 million over five seasons owed, respectively.
TWEENERS
Brewers: Second baseman Rickie Weeks is owed $10 million in 2013 and $11 million in 2014 and has a vesting option for 2015. After a woeful first half, he has bounced back and remains in the plans, though.
Cardinals: Chris Carpenter and Rafael Furcal come closest, yet both may be stretches. Carpenter is owed $12.5 million in 2013 and is an injury risk, but he made his season debut Friday after having a rib removed in July. Furcal has an elbow issue and is owed $7 million in 2013, which could weigh down the Cardinals as they look for a shortstop alternative. While Matt Holliday has $68 million remaining over the next four years, he has been productive.
Giants: San Francisco has lots of dead weight now, but contracts for Aaron Rowand, Aubrey Huff and Freddy Sanchez all expire. The lone commitment for 2013 that qualifies: Barry Zito, who will enter the final season of his original seven-year, $126 million deal. Overall, that contract is a bust. If Zito logs 200 innings next season, he has an $18 million option that vests.
Orioles: Brian Roberts has played in only 115 games over the past three seasons and underwent hip surgery earlier this year. He is due $10 million in 2013. "But they will just ride with that one I am sure," one Baltimore reporter says.
Padres: Righty-hitting catcher Nick Hundley (.157) is owed $9 million over the next two seasons, plus has a $5 million club option. Carlos Quentin and Huston Street signed extensions before the trade deadline, but the Padres still only have $29 million committed to 2013 payroll. One reporter says: Cameron Maybin has "frustrated them at times this season and was largely inconsistent. He's owed $23 million over the next four seasons (not including a $1 million buyout in 2017). But he's still very much a part of this team moving forward."
Phillies: Ryan Howard is completing the first season of a five-year, $125 million deal. Jonathan Papelbon is completing the first season of a four-year, $50 million deal. Still, there's a difference between overpaid and dead weight.
Rangers: Michael Young tops the list. He is owed $16 million next year. An important player for Texas, Young still doesn't justify that salary.
Rockies: Jorge De La Rosa has an $11 million player option. Overpaid for his production, Michael Cuddyer is owed $21 million over the next two seasons. Todd Helton has one year remaining at $5 million.
Royals: Ex-Mets Jeff Francoeur ($6.75 million in 2013) and Bruce Chen ($4.5 million) are the biggest drags.
White Sox: Left-handed reliever Matt Thornton is pricy at $6 million in '13. John Danks, coming off left shoulder surgery, has four years remaining at $57 million.
UNCOMMITTED
Astros: No contracts -- period -- extend beyond this season.
Athletics: Coco Crisp is owed $7 million next season, but isn't dead weight because he serves as leadoff hitter and center fielder.
Diamondbacks: Outfielder Chris Young's deal isn't stellar -- $8.5 million next season and $11 million or a $1.5 million buyout for '14 -- but he contributes.
Indians: Travis Hafner is coming off the books. Cleveland has a $13 million option for 2013 that won't be exercised.
Nationals: Jayson Werth is owed another $104 million through 2017, but the Nats are uninterested in dealing him.
Rays: Closest: right-hander Wade Davis ($2.8 million in 2013 and $4.8 million in 2014), but he may set up next season and close in the future.
Reds: Joey Votto, Brandon Phillips, Jay Bruce and Johnny Cueto are the lone Reds signed beyond 2012 -- and Bruce and Cueto signed at discounts.
Tigers: No remaining dead weight.