Sandy Alderson, appearing on SNY, offered the following insights during Tuesday's game ...
On the time frame for extensions for David Wright and R.A. Dickey, who have team options for 2013:
"Well, I can't dictate a time frame because there are two parties involved. In fact, the time frame already has been dictated by the other side in both cases. But our intent is to work hard to try to keep them both. They've both been great for us this year. David has been here and is the face of the franchise -- has been. We'd very much like him to stay. I think he wants to stay. I'm sure he wants to know where we're headed and the things that we intend to do to make it a winner. We'll have that conversation at some point.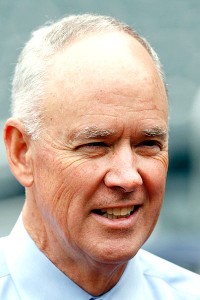 William Perlman/US Presswire
Sandy Alderson "intent is to work hard" to keep David Wright and R.A. Dickey."R.A.'s situation is a little bit different in the sense that there is more immediacy there. Here's a guy that's 37 years old and is pitching and presumably doesn't have the same horizon that a David Wright might. So at the end of the season we'll talk with R.A. and see what he's thinking and try to have him back. He's been a great story this year. He's been a great asset over the last three years, really."
On if it quickly became apparent this offseason that it would be difficult signing either to an extension, whether the Mets would consider a trade:
"I wouldn't go so far as to say that makes them trade bait. I think that you have to constantly assess where you are and where they might be and make the best possible judgment. We get criticized from time to time for not trading Jose Reyes last year. I still think we made the right decision holding onto him. He had a great season for us. I think there was still an opportunity -- small, perhaps -- that we could have re-signed him.
"But that question comes up, and that's something that we would have to, of course, reassess as time went on. If we felt that there absolutely wasn't any way that we were going to get something done, then we would probably approach something. But I think we tend to be optimistic and see where it takes us."
On the ESPNNewYork.com report about considering trading Ike Davis, and about the specifics of being less-than-receptive to coaching and staying out late:
"I don't think it causes a lot of long-term harm as long as the situation and the relationship is managed internally. I don't think another club two months from now is going to put a lot of stock in a story that was written toward the end of a season. I think what's more important is we have a good line of communication with the player, make sure that the player is confident in us and that we're being straight with him. I think the biggest risk is the stuff comes out and suddenly it's attributed to me or someone else, even though the person is not named, and it ends up creating a problem in our relationship with the player.
"I have talked to Ike over the course of the season, and somewhat recently, but not since that article. I didn't feel it was necessary to go back and sort of have the same conversation with him that I've had before. Ike's a valuable part of this team. One of the things we lack is power. For us to trade a guy that's hit 30 home runs, we better know how the next 30 are coming from."
On the difference between the team's first half and second half:
"I think one thing you can look at from a personnel standpoint -- and this is more an indictment of me and our approach -- we've lost players at the middle of the year. There's no question about that. I think we've lost players in the middle of the year over the last several years. Certainly in '11 we lost [Carlos] Beltran and we lost Frankie Rodriguez.
"And we didn't get an influx of talent or players from the minor league system at that time, and we didn't get an influx from outside the system, either. As a result, when you don't get that push, there may be something psychological. There may be just something strictly performance-based that comes into play in the second half. But it's definitely something we have to look at."
More on second-half offensive swoon:
"We've looked at that, because we've looked at, for example, pitches per plate appearance -- first half, second half. And they're down significantly in the second half. I think that sometimes has to do with the mix of personnel. If you go back and look who they had in the lineup consistently over the last year and a half -- because really the 'buy-in' was over the last year and a half, it wasn't a half-season and then we canned it and did something else. I think it was over the last year and a half really when we had that 'buy-in.' But when you start mixing in some additional personnel that maybe doesn't approach it that way, I think it can have an effect on the overall approach. That's not an indictment of anybody. But there are certain players that we have had playing over the last two or three months that don't reflect that approach as well as others.
"I remember when I was in here a few weeks, a few months ago, and made the comment that you build teams with speed or power. And we don't have either one. But what we had at that time, I think I tried to emphasize, was an approach."