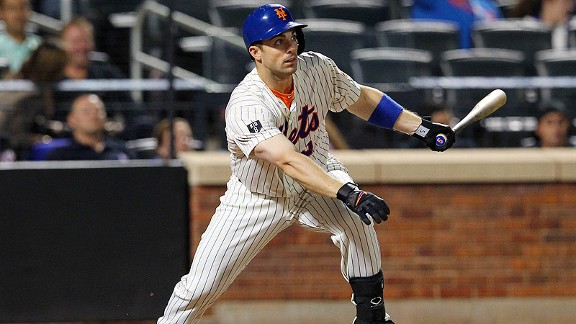 Brad Penner/US Presswire
David Wright delivers a two-run single in the seventh inning that tied him with Ed Kranepool for the franchise's career hits record.After a two-hit performance Tuesday night tied him with Ed Kranepool for the franchise career hits record with 1,418, David Wright took a low-key approach.
HIT MEN
The top-10 hitters in Mets history:
"I don't think you can sit back and really enjoy this until you're done playing -- or, maybe, enjoy it a little bit in the offseason," Wright said after the 10-6 loss to the Pittsburgh Pirates. "I'm not programmed, and it's a little odd and uncomfortable talking about something individual like this, when we've had our struggles in the second half and haven't done what I think all of us feel like we were capable of doing. But I'll enjoy it at some point -- probably not tonight. I have to get ready for tomorrow. But at some point I'm sure I'll enjoy it because it's a nice accomplishment and I'm very proud. ...
"Obviously you'd like to do these types of things in wins. But I'm proud of the fact I was able to tie it, and hopefully I'll break it tomorrow. It's bittersweet, especially kind of playing behind that eight ball early in the game."
Wright's average has dipped as the season has progressed. He hit .389 in April, .347 in May, .340 in June, .255 in July, .272 in August and is now .244 this month.
"It would be nice to finish strong," Wright said. "I think everybody in here individually wants to finish strong. And we, as a team, want to finish strong. I've used the example of the Orioles numerous times. Hopefully we can end on a positive note and that can springboard us into next year.
"Personally, it's the law of averages. It's extremely difficult to hit .300 and it's damn near impossible to hit .350. So, at some point, you know that some of those line drives aren't going to find some holes and you're going to go into some little slumps. I did that, and have felt like I've had much better at-bats here as of late. But it's a results-oriented game, and obviously you'd like to see the results."
As for the Kranepool record, Wright concluded: "Growing up, you never think that you'll make it to the big leagues much less have this many hits. So I'm proud of that."