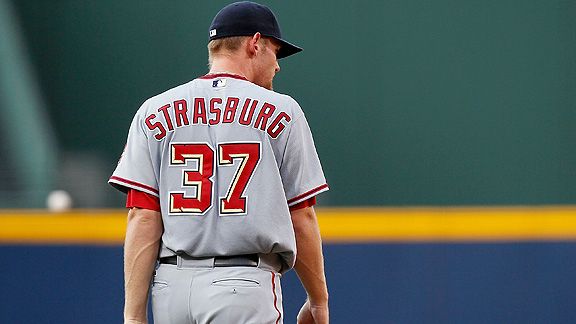 Kevin C. Cox/Getty Images
Jesus Feliciano, Ruben Tejada and Josh Thole already have seen Stephen Strasburg firsthand. They faced him with Triple-A Buffalo on June 3.
The last player to face Stephen Strasburg in the minor leagues knows what the New York Mets are in store for on Saturday when the Washington Nationals phenom is lined up for them in D.C.
"He can throw any pitch in any count," said Mets outfielder Jesus Feliciano, who went 1-for-3 against Strasburg on June 3, when the Mets' Triple-A Buffalo affiliate faced the flamethrower in his final start for Triple-A Syracuse before a promotion to the major leagues. "He can throw you a 3-2 curveball for a strike. I think that's what makes him so good. He's not afraid of throwing any of his pitches at any time."
As for how he personally fared, Feliciano added: "I had two real good at-bats. I had a base hit to left. And I remember my last at-bat. That was the last out of his minor league career. I think it was men on second and third and I went to a full count and I battled. I had a good at-bat and then he made a good pitch. He threw me a curveball and I hit a groundball to second."
The powerful Buffalo offense had been eagerly awaiting that start by Strasburg, but the lineup was depleted by the events of the previous day against Syracuse. The night before, Daniel Murphy was taken out at second base by a questionable slide and was lost for the season. Catcher Josh Thole also got whacked in the head with a backswing and was unavailable to face Strasburg.
Strasburg ultimately limited the Bisons to three hits while striking out five and walking one in five scoreless innings.
There actually was concern he could end up in a beanball war in that game because of the previous days' events. But Syracuse sat Leonard Davis -- who had the takeout slide on Murphy -- and nothing materialized. (As an aside, Syracuse and Buffalo again meet this weekend, and retribution could be in the offing then. In a strange twist, Davis and Murphy had been on the same Arizona Fall League team and appeared close.)
"It was going to be an exciting day. It was going to be the most people they put in that stadium," Thole recalled about Strasburg's outing in Buffalo. "And it was going to be on Versus -- national television. So we were all pretty pumped up about it. But, then again, some guys got banged up. But still, that had nothing to do with it. He was still one of the best pitchers I've seen physically standing there watching. He can go on a pedestal."
Thole had a good view from the dugout, even out of the lineup.
"He's pretty good when you have 98 mph in your back pocket whenever you want and can run it up there as hard as he does," Thole said. "He was pitching behind. That's one thing I do remember. The umpire was a little tight and he was pitching behind all day. But he would get to 2-0, 2-1 counts and just run breaking balls in there. When you can do that and throw as hard as he does, it's going to make for a pretty tough day."
Thole added that it seemed Strasburg was still refining his changeup at that point, but now that pitch is a major weapon.
Strasburg suffered a defeat Monday night, when he was tagged for four runs (three earned) in 6 1/3 innings against the Atlanta Braves. Still, he is 2-2 with a 2.27 ERA, 48 strikeouts and seven walks in 31 2/3 innings.
According to ESPN Stats & Information, of the 71 batters to go to two strikes against him this year, 48 have struck out. The 67.6 percent rate is the highest in the majors this season with a minimum of 25 innings. Against right-handed batters, he had struck out 29 and walked two.
"Obviously they say he has good stuff," David Wright said. "And he seems to be striking out a lot of guys out."
WHAT GIVES?
Left-hander Oliver Perez should begin a rehab assignment this week. Luis Castillo is going to need to come back at some point. And Carlos Beltran should be back no later than right after the All-Star break.
So what happens to performing players such as Hisanori Takahashi, Ruben Tejada and Angel Pagan? Will the injured players' veteran status and larger contracts mean the performing players will be displaced?
"From Oliver's standpoint, some guys have contracts that are guaranteed," GM Omar Minaya responded. "But I just want to say that Jerry (Manuel) -- if he feels that it's the best starting pitcher to win that game -- he's going to put out the best guy. He's not going to go with guys because they have contracts more than the other guys. The best way I can describe it: It's not going to be about the contract. It's going to be about performance."
Adam Rubin's 'In-depth' look at the Mets will appear selected Tuesdays during the season