WHAT IT MEANS: The Braves honored Chipper Jones with a pregame ceremony as he opened his final regular-season home series before retiring. Lucas Duda spoiled the night.
With Tim Hudson breezing through a scoreless effort in the seventh inning, Duda fouled off three two-strike pitches while working the count full. He then launched a three-run homer that ultimately lifted the Mets to a 3-1 win on Friday night at Turner Field.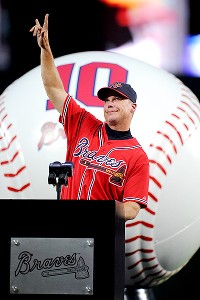 Kevin Liles/US Presswire
Chipper Jones recognizes the sellout crowd during a pregame ceremony honoring him.
Hudson had appeared poised to work around a leadoff double by Daniel Murphy that inning. Murphy tagged to third when right fielder Jason Heyward dove to rob David Wright of a hit on a sinking liner. After Hudson intentionally walked Ike Davis, Scott Hairston then struck out and Duda fell behind in the count, 1-2.
The ensuing long ball gave Jon Niese his career-high 13th win in his final 2012 start.
The victory also ensured the Mets (73-84) will not finish in last place in the NL East.
Niese surrendered a one-out solo homer to Freddie Freeman in the fourth but no other damage in seven innings. He closed his season with eight straight quality starts.
After signing a five-year, $25.5 million contract on the eve of the season, Niese made 30 starts, matching a career high. He finished 13-9 with a 3.40 ERA while logging a career-high 190 1/3 innings.
Manny Acosta, Justin Hampson and Bobby Parnell closed out the victory. Parnell earned his sixth save this season.
Chipper, by the way, had a quiet night with a spirited sellout crowd of 51,910 on hand. With Hank Aaron and family members including father Larry Sr. and son Shea on hand, he grounded out in each of his four at-bats. The attendance was the seventh-largest in the history of Turner Field, which opened for baseball in 1997, after hosting the Olympics.
Georgia governor Nathan Deal had declared it Chipper Jones Day in the state. The Braves presented Chipper with several gifts, including a promise to install his Turner Field locker at his home and a trip to Hawaii.
WHAT'S NEXT: Chris Young (4-8, 4.21 ERA) concludes his 2012 season Saturday at 7:10 p.m. He opposes Braves left-hander Mike Minor (10-10, 4.27).