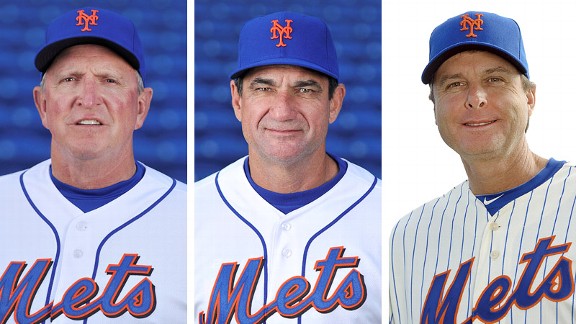 US Presswire
The Mets' entire coaching staff will return for 2013, including (l to r) pitching coach Dan Warthen, hitting coach Dave Hudgens and third base coach Tim Teufel.
MIAMI -- Terry Collins' entire staff will return for next season, the manager announced before Monday's series opener against the Marlins.
Pitching coach Dan Warthen is the longest-tenured member of the staff, having ascended from Triple-A when Willie Randolph as well as Rick Peterson were axed in the 3 a.m. ET firing back in 2008. Hitting coach Dave Hudgens is completing his second season. Bench coach Bob Geren, third base coach Tim Teufel, first base coach Tom Goodwin and bullpen coach Ricky Bones all are concluding their first year on the staff.
Among NL teams, the Mets offensively enter the final three games ranked 11th in runs scored (641), 10th in batting average (.249) and 13th in homers (134). Pitching-wise, they are 11th in ERA at 4.11 -- although the starters rank seventh (3.85) and the relievers rank 16th/last (4.67).
Wally Backman, who managed at Triple-A this past season, said no role has yet been presented to him for 2013.
"I like this organization. I'd like to finish my career in this organization," Warthen said. "I'm very happy where we are as far as our young arms coming up. I think there's a great deal of future -- a good future. ... With the [Zack] Wheelers and some of the guys we're seeing right now, I think that we have a very bright future. And I'm glad to be a part of that. ... [Matt] Harvey pitched better here than he did in the minor leagues. So I think there's some very positive, wonderful things happening here.
"I'm anxious to see a little more of Zack Wheeler. I've only seen him go to the mound and compete one time in my life up close and live. Whether it was [outgoing Triple-A pitching coach Mark] Brewer or [pitching coordinator Ron] Romanick, they say that this kid's arm is even better than Harvey's. [Jeurys] Familia, I've been so excited to see him pitch. He's made a lot of rookie, or very young, mistakes or nervous mistakes. But the stuff that comes out of his hand is electric to me -- it's 95, 96 with movement, a very easy, relaxed motion. So you see a huge future in that.
"Along with [R.A.] Dickey and hopefully [Johan] Santana coming back, and [Dillon] Gee coming back healthy, I think we have a chance to be a very solid pitching organization for a number of years to come."
Warthen said he was least confident he would remain pitching coach after the 2010 season, which was Jerry Manuel's final year as manager.
"I thought we were miserable in 2010," Warthen said. "I just thought everything was as bad as you could imagine. I thought we were walking people. I didn't think we were executing pitches. And I was disappointed in the pitchers and I was disappointed in myself that I couldn't get more out of the pitchers.
"Just the opposite, I think I've done one of my best jobs ever this year. I think I've gotten better because I've learned more. I think I know the league better. I know the guys more, and I know what I think they can do."
Said Dickey about the coaching staff: "Our poor season hasn't been because of them. Believe me."
Collins heartily endorsed the staff returning intact.
"You can get carried away by blaming coaches for a lot of stuff that happens," the manager said. "If you didn't see a work ethic, I can understand coaching changes. If there were issues that some guys had, I could see that. I was around these guys every single day, and there hasn't been a day go by where they haven't tried to stay positive. They haven't thrown their arms up in the air and said, 'Well, we can't help this guy.' That's never been an issue.
"And in our business today, the development can't stop. And to have guys with great development backgrounds, I think it's important."