MIAMI -- The Mets vow not to groove a pitch to Adam Greenberg when the 31-year-old ballplayer appears in his first major league game in seven years.
Greenberg, a former Cubs prospect, was struck in the head by the Marlins' Valerio De Los Santos in his only major league plate appearance, on July 9, 2005. He subsequently experienced vertigo and ended his baseball career in 2009 after toiling in independent ball.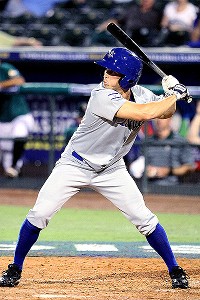 Stacy Jo Grant/Associated Press
Adam Greenberg represented Israel in the World Baseball Classic last month.
The Marlins are giving him a one-day contract to finally have a major league at-bat.
Marlins manager Ozzie Guillen said Greenberg will not play the field. He will get one at-bat, likely in a middle inning, in a non-integral part of the game. That means he very possibly could face R.A. Dickey, who will be bidding for his 21st victory Tuesday.
Greenberg is one of two players in major league history to be hit by a pitch in his lone major league plate appearance and never take the field. The other: Fred Van Dusen, with Philadelphia in 1955.
"He's a big leaguer. I'm going to treat him like a big leaguer," Dickey said. "That's why he's here. I would hope he wouldn't want anything less than that. That's certainly how I'm going to treat him. So if he comes up, he's going to get a steady dose of my best."
As for Greenberg's storyline, Dickey added: "Look, I've been the product of a lot of chances myself. I'm happy he's getting that opportunity, for sure. Having followed a little bit about how he went out, it's nice that he's given a second chance, so to speak. And, hopefully, he'll make the most of it, or somebody will see something in him that will encourage them to give him a more significant look. It's a neat story, for sure. You have to tip your hat to someone who had that happen to him and has been able to come back."
Said Terry Collins: "I think it's a wonderful story. I know there's some pros and cons about it -- why does he get the one at-bat when a lot of other guys don't? But he did make it. He was good enough to get there at one time. Had he not got hit in the head, who knows if he wouldn't have been a star today? I just think it's a great story for this guy to come up with all he's been through since to try to fight back, all the things he's had to endure. I think it's going to be a great story."
Guillen initially considered having Greenberg start the game in left field, bat once in the bottom of the first inning, then depart. He decided otherwise.
"We will try to put him in in the middle of the game and see how that works,'' Guillen said. "… They told me to give him one at-bat. That's what they want. … If I need a base hit to take the lead or something then I will figure out another inning. I'm going to manage my game to win the game. I will figure out how to play him. But if the game is on the line, I'm going to manage it to win the game.
"Obviously if we are in the pennant race and this game meant something, or if the Mets were in the pennant race and we've got to beat them, that's different."