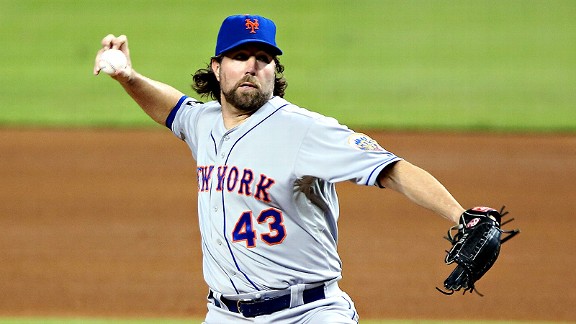 Marc Serota/Getty Images
R.A. Dickey experienced pain Tuesday from an abdominal muscle tear that he originally suffered in April. He will require Oct. 18 surgery.
MIAMI -- R.A. Dickey held at 20 wins with a no-decision in the Mets' 4-3, 11-inning loss to the Miami Marlins. The revelation came after the game, though. Terry Collins announced Dickey had been dealing with an abdominal muscle tear for much of the season, which got significantly more painful during Tuesday's second inning. Dickey said surgery had already been scheduled for Oct. 18. He will undergo it in Philadelphia, not with Mets doctors.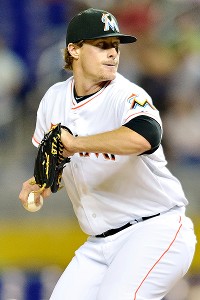 Steve Mitchell/US Presswire
New Rochelle's Tom Koehler makes his first major league start in Game No. 162, against the Mets.
The Mets complete their 2012 season today at 4:10 p.m. Jeremy Hefner (3-7, 5.32 ERA) starts for the Mets against a slew of Marlins relievers, beginning with Stony Brook University/New Rochelle High School product Tom Koehler (0-0, 5.40). Koehler started 27 games with Triple-A New Orleans this season, but has pitched no more than two innings in relief in any appearance since a September call-up.
Before the game, Sandy Alderson plans to give a state-of-the-team address to Mets beat writers.
Wednesday's news reports:
• Read more about Dickey's upcoming surgery in the Post, Star-Ledger, Daily News, Newsday and Record.
• Team sources gave insights to ESPNNewYork.com about the Mets' 2013 roster composition. In the news story, a team executive expresses optimism David Wright will remain a Met long term, then become an ambassador for the organization, akin to the role Tom Seaver currently holds. An official would not rule out trading Dickey. The blog entry handles expected maneuvers with less sizzle: It is unlikely Jon Rauch and Ramon Ramirez are re-signed. Andres Torres and Mike Pelfrey are expected to be non-tendered. The Mets would welcome back free-agent-to-be Scott Hairston, but believe he may get a two-year deal elsewhere and depart. The Mets would like to upgrade over Kelly Shoppach, but the price may be right for a return when all is said and done. Ronny Cedeno likely will first look for a starting shortstop job elsewhere.
• Mike Puma in the Post catches up with Jose Reyes, who:
- Believes the Mets will re-sign his ex-teammate Wright. "He has been the face of the franchise for a long time," Reyes said.
- Now understands the Mets letting him go. "When I was a free agent, they were in a tough situation money-wise."
- Offers no regrets about signing with the Marlins, who finish in last place, having conducted another fire sale. "When I left the Mets, I knew I was going to a better situation. The team we put together on the field was a very good team to compete in our division, but it didn't happen that way. Nobody thought we were going to be behind the New York Mets at this point. ... I'm happy where I'm at. They treat me good here. We still have a lot of good pieces here. We just need to put it together on a consistent basis. This year we had only one good month, May. We need to put that on a consistent basis, we want to compete."
Reyes, by the way, enters the season finale having played in 159 of the Marlins' 161 games. He had not reached that total since appearing in 159 games in 2008 and 160 games in 2007.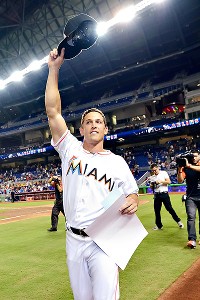 Steve Mitchell/US Presswire
Adam Greenberg struck out on three pitches against R.A. Dickey.
• Dickey struck out Adam Greenberg on three pitches Tuesday. Greenberg entered a major league batter's box for the first time since 2005, when he was struck in the head with a pitch in his lone previous plate appearance. Dickey said he treated Greenberg like any other batter, as he had pledged to do entering the outing.
"I wanted him to have his moment. For sure, I tried to give him as much time as I felt like I could before I got on the rubber," the knuckleballer said. "I think the story far transcends the result of the at-bat. Just like I said before, that was important -- for him and me, I think -- for me to treat him like a big leaguer." Read more in the Miami Herald, Times, Newsday and Star-Ledger.
• Jordany Valdespin will play second base in winter ball at the Mets' request, suggesting outfield is not in his immediate future with the organization. Jeurys Familia actually will serve as a starter, which is his Dominican winter-league club's preference.
TRIVIA: Tuesday's answer: Marlins Park displaced Nationals Park as the most poorly attended first-year facility in MLB since 2001.