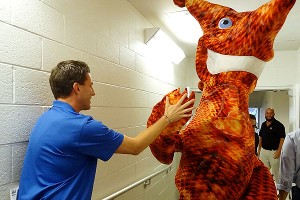 Adam Rubin
Participant in Miami Marlins mascot race high-fives SNY's Kevin Burkhardt outside Mets clubhouse after Game No. 162.
MIAMI -- After beating the Miami Marlins, 4-2, on the final day of the season, Terry Collins addressed the 2012 Mets for the final time.
"When you spend seven months with 40 guys in the same small space, you get to be close to a lot of them," Collins said. "I just thanked them for all the effort and the fact they played so hard here together. A great clubhouse.
"We certainly are disappointed in the record. We're not going to make any ifs, ands or buts. We're not putting any blame on anything or anybody. We got off to a good start. We changed the atmosphere in here. We didn't continue it, but we will. This was certainly step one. We came into spring with absolutely zero expectations. That was not acceptable here. That was not going to happen. You need to be accountable here. There is expectations here. This is the New York Mets. You know what? They got ready in spring training. Yeah, we had some things that happen that we can't control. We also had some things that we could control that didn't go our way.
"There were some bright, bright spots here. And these guys are responsible for that. You look at the young players that are here. You can grow with that. You can grow with the pitching staff that's coming. You've got to like what you're looking at. With the resurgence of Ike [Davis], I think next year Lucas Duda is going to be an impact player, [Daniel] Murph[y] is an everyday guy. There's a lot of positives you can take out of this. We've got to get it done, but as we've seen, if we stay the course and don't panic and have some patience, this is going to come together."
Said David Wright: "We got a little taste of what it's like to win in the first half. Hopefully that kind of motivates guys and guys understand with hard work -- you put in the time and the effort -- that obviously [even] with low expectations you can come in and win a lot of baseball games, like we did in the first half."