David Wright insisted he is not going for the jugular with his next contract.
"What's the correct term? A mercenary. I've never considered myself that type of player where I'm going to go to wherever for the money," Wright told ESPNNewYork.com on Sept. 30. "It's clichéd, but I'm not necessarily concerned about making every last dollar I can in this game. I'd rather be somewhere where I feel like I can win, somewhere where I feel like I can be happy and obviously comfortable. There's a lot of other factors other than flat-out who's going to pay you the most. It's a business, ultimately. It is. It's a business. And I don't blame any players for doing that. But I'm not sure if that's me."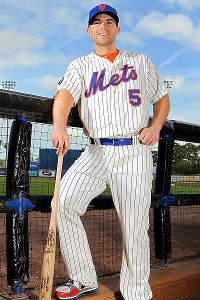 Marc Serota/Getty Images
David Wright will be getting a $100 million-plus deal somewhere.
Regardless, money will not be immaterial. So, in light of a CBSSports.com report suggesting the Mets' first offer to Wright will be in the $100 million range, how much will Wright ultimately receive?
Much more than that amount.
My suspicion is if Wright really wanted every last dollar and took things to free agency after next season, he could land an eight-year deal worth $160 million somewhere.
The Mets hold a $16 million team option for 2013 and hope to wrap up an extension early this offseason so that they do not even have to contemplate trading him.
The minimum offer to Wright has to be what third baseman Ryan Zimmerman signed for with the Washington Nationals last spring training. Zimmerman tacked on six years at $100 million to a deal that had two years at $26 million already in place -- meaning Zimmerman, as of the contract signing, was guaranteed eight years, $126 million.
Wright ought to comfortably get more than that.
While Zimmerman has been with the Nats since the team's move to D.C. for the 2005 season and is highly identifiable with Washington, Stephen Strasburg and Bryce Harper undoubtedly have surpassed him in popularity. Meanwhile, Wright is Mr. Met -- with no competition for that distinction.
Let's also not forget: Wright's agents reportedly have lost a couple of clients amidst allegations -- which they vehemently deny -- that they helped a former client procure performance-enhancing drugs. What better way to prove to your clientele you're the firm to represent them than to land a mega-deal for Wright? (That's a comparable situation to how Jose Reyes' agents had to deliver him a $100 million-plus contract last offseason after Reyes was unsuccessfully courted by Scott Boras.)
Bottom line: Wright may not go for the jugular with the Mets, but it's hard to fathom him settling for less than Zimmerman's $126 million. And since Wright is on the record wanting his next contract to take him to retirement (which the Mets hope to accomplish though options), eight years would seem to be the minimum for which Wright would settle unless he's feeling benevolent.