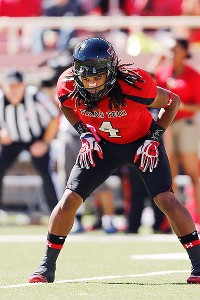 Jerod Foster/Icon SMI
Mets minor leaguer Bradley Marquez also plays college football at Texas Tech.
Texas Tech coach Tommy Tuberville told college football reporters that Bradley Marquez will require season-ending right knee surgery for an injury suffered covering a punt in Saturday's win against West Virginia.
Marquez, 19, also is a Mets minor leaguer after being drafted in the 11th round in 2011. He spent part of this summer as a center fielder for Class A Kingsport. He has been permitted to continue playing college football, splitting time with pro baseball, as part of the terms of his signing with the Mets.
The original fear was a torn ACL, which might have impacted Marquez's 2013 baseball season, but the injury turned out not to be as severe, according to the Lubbock Avalanche-Journal.
"It's other small damage in there that they're going to have to repair, and it's going to keep him out," Tuberville said, according to the newspaper. "Fortunately, it won't be as a long recovery for Bradley."
Marquez hit .267 with two RBIs in 30 at-bats for the K-Mets this summer.