Sandy Alderson, speaking at the GM Meetings in Indian Wells, Calif., on Thursday, offered insights and one-liners about the state of the Mets. Here's a partial transcript, provided by ESPNNewYork.com colleague Wallace Matthews.
• On David Wright, Alderson said: "Conversations are ongoing. Other than that, I really can't say much. One of the things that we have done is we have agreed with David's representatives that there not be a great deal of discussion publicly about where we are. So in deference to that understanding with the other side, I respectfully decline to comment."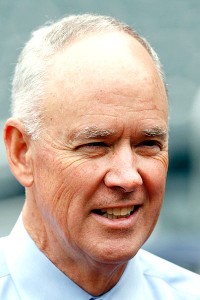 William Perlman/US Presswire
Sandy Alderson addressed the Mets' offseason on Thursday.As compared with the Jose Reyes talks last offseason, the GM added: "There's much more engagement. Let's put it that way."
• On the Jason Bay buyout, Alderson said: "I think it does give us some more flexibility, but I frankly can't tell you how much, and it's not just a function of the numbers. It's a little more complicated than just the straight numbers. It gives us some more flexibility, but I can't tell you how much at this point."
On why there was a change of approach from the regular season, when Alderson was adamant Bay would be brought to spring training, the GM said: "I think that rather than a quick change of mind or a quick change of heart, I think what happened was it became evident that there might be an opportunity to resolve this differently. And so with that in mind, the circumstances changed somewhat. I always felt it wold be in his best interest and our best interest to get something resolved that avoided the same kind of situation we had in 2011 with some other players [Oliver Perez and Luis Castillo].
"On the other hand, it wasn't clear to me that we were going to be able to avoid that and I did think there was more of a contribution that Jason could make to us than might have been possible in those other circumstances. So I wouldn't say there was an 'a-ha' moment. There wasn't a complete reversal of perception on my part, but a realization that there might be an opportunity to resolve it in his best interest and ours."
• On potential R.A. Dickey extension, Alderson said: "Well, we're tying to. We'd love to retain him. Now, you know, the situations are a little bit different [compared with Wright]. The ages are a little bit different. So they're not identical situations. But we're still engaged there as well."
Could the Mets trade Dickey?
"I think it's way too early to tell and at this point, our focus -- almost exclusive focus -- has been to try to re-sign him at this point," Alderson said.
The GM continued: "I met with David in Virginia. I offered to meet with R.A. in Nashville. It turned out not to be necessary. I think we're past those issues at this point."
On the trade interest in Dickey, Alderson said: "I wouldn't say there's been any real change in the past few days. I just got here last night so I haven't even made an attempt to canvas interest and probably won't today or tomorrow. In fact, while these meetings sound like a good venue for those kinds of conversations, I find that the best thing to do is pick up the phone. You get a lot more focused conversation than really exists here. This is really about generalities and not specifics."
What about the perception if he traded a potential Cy Young Award winner? Alderson said: "Well, from my standpoint, I already assume he's going to win. It would be a little unusual to trade a Cy Young winner, but I can remember a time when we traded for the leading hitter in the National League at the time, so it happens."
• On the need to add position players, Alderson said: "I can answer that with a yes. Pitching is definitely our strength. For different reasons, I would hate to give up an R.A. Dickey or a Jonathon Niese or a Dillon Gee, but it is our strength and it's something we would have to entertain. At the same time, we're not looking to go out of our way. If there's a place to have a strength in terms of where we are and where we want to be, starting pitching is the place to have that strength so you do have to be careful about moving it."
On the state of the outfield particularly, Alderson quipped: "What outfield? We're gonna bring those fences in another 150 feet."
Asked where the outfielders will come from, the GM again quipped, saying: "A cardboard box?"
Lucas Duda in left field, though? "Yes," Alderson said. "He does come with a lot of furniture, though. I mean baggage. I'm sorry. He's very definitely in the mix. We're counting on him."
And Kirk Nieuwenhuis in center field: "I think he may be. It's conceivable. Now he still has the plantar fascia issue that we're monitoring."
• On whether the Bay resolution means it's more likely Scott Hairston returns, Alderson said: "I think it helps. As I said, it gives us more flexibility and it subtracts one more candidate from our outfield. So in both ways it probably enhances Scott's chances of coming back."