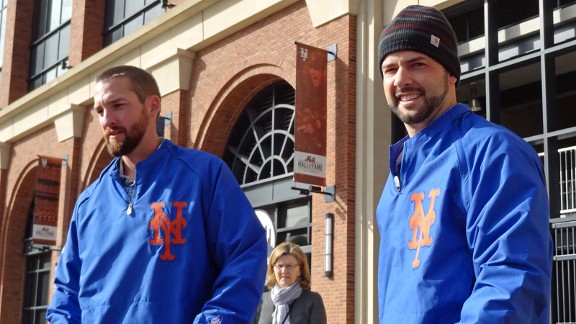 Adam Rubin
Bobby Parnell and Dillon Gee pitched in at Citi Field on Wednesday morning, greeting fans who donated food items, which will benefit Queens residents affected by Hurricane Sandy.
Dillon Gee and Bobby Parnell visited Citi Field shortly before noon Wednesday to lend their support to a food drive in conjunction with City Harvest to aid Queens residents affected by Hurricane Sandy.
Gee, who underwent July 13 surgery to repair a damaged artery in his pitching shoulder, had returned to a mound before heading home to Fort Worth, Texas, for the offseason. He noted Wednesday that he will start his offseason throwing program later this month -- the same time he would in any other winter. Gee is likely to visit St. Louis before spring training for another checkup with the surgeon who performed his procedure, but the surgery is supposed to have fixed the clotting issue and it is not expected to recur.
"I haven't even thought about it," Gee said. "I finished the year throwing a couple of times. I've been working out for like three weeks now and I haven't even thought about it."
As for R.A. Dickey's candidacy for the Cy Young, Gee said: "There's really not much else you can say about his season. It speaks for itself. It was unbelievable. It would definitely be cool to say I was teammates with a Cy Young Award winner and got to see him day in and day out, how he won it. It definitely would be good for everybody and just an uplifting thing and obviously great for him."
Added Parnell: "It was an awesome season. He really helped the starting pitchers and helped us in the bullpen and helped us win games. It was fun to watch him pitch."