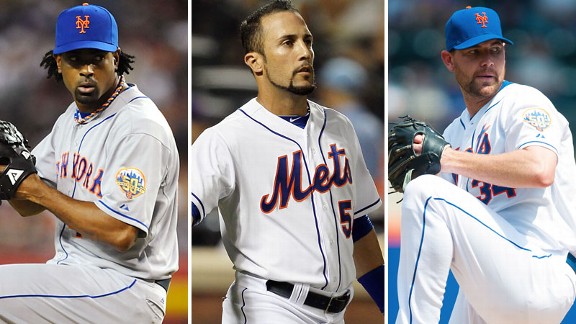 Getty Images
The Mets are expected to cut loose Manny Acosta, Andres Torres and Mike Pelfrey this week.
Barring a last-minute trade that did not appear likely or other reversal, the Mets plan to non-tender three players by the Friday night deadline -- right-handers Mike Pelfrey and Manny Acosta and center fielder Andres Torres, according to major league sources.
Pelfrey, the organization's first-round pick in 2005, earned $5.785 million this past season. He underwent Tommy John surgery on May 1. Pelfrey is optimistic he will be able to throw 100 pitches even in January. But with a full year recovery time typical for Tommy John surgery, the Mets plan to cut loose Pelfrey.
"If the season started Jan. 15, I would be able to go out and throw 100 pitches," Pelfrey said.
The Mets would be open to re-signing him for a lesser amount, but Pelfrey is represented by agent Scott Boras, who would seem more likely to place Pelfrey with another team. That's especially true if the Mets retain their current five starters -- R.A. Dickey, Johan Santana, Matt Harvey, Jonathon Niese and Dillon Gee -- since Pelfrey's best chance to re-establish a high value likely would be by serving as a starting pitcher in 2013, not in the bullpen.
Torres was part of the ill-fated trade with the San Francisco Giants that materialized during last year's winter meetings. He arrived with right-hander Ramon Ramirez, who is now a free agent, for Angel Pagan. Torres made $2.7 million this past season.
Acosta had a major league salary of $875,000 last season.
If an arbitration-eligible player is tendered a contract, he must make at least 80 percent of his previous year's salary. And players rarely receive any kind of pay cut through the arbitration process, even coming off a subpar year.