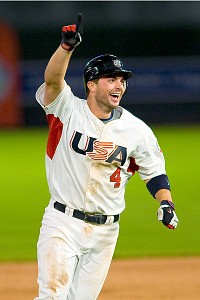 Scott Rovak/US Presswire
David Wright celebrates after getting the game-winning hit against Team Puerto Rico at the 2009 World Baseball Classic at Dolphin Stadium.
In a break from issuing denials and no comments regarding the precise terms of contract proposals, David Wright did tell ESPNNewYork.com he is "definitely interested" in representing Team USA in the World Baseball Classic in March, assuming he is invited.
Wright's former manager, Willie Randolph, will serve as the third base coach.
Wright played for Team USA in the WBC in 2009. That participation included a two-run single in the bottom of the ninth inning to lift Team USA to a 6-5 win against Puerto Rico in Miami.