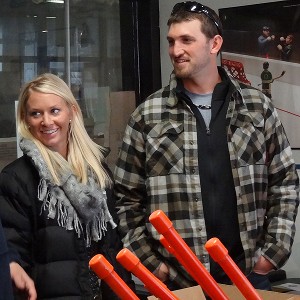 Adam Rubin
Jon Niese and fiance Leah Eckman visited Long Beach on Wednesday.
During a visit to pitch in with cleanup efforts in Long Beach, Long Island, Jon Niese said he would be surprised if David Wright did not remain a Met long term.
"He's a guy that leads by example -- kind of like Chipper did with Atlanta," Niese said Wednesday afternoon. "I know he wants to be what Chipper was in Atlanta. He wants to be -- he is -- the face of the franchise. And he wants to be a part of it throughout his whole career. You have to respect a guy like that."
With that in mind, could Niese envision Wright elsewhere?
"It would surprise me, just because I know the love he has for the city and how he wants to be with the Mets organization his whole career," Niese said. "I would definitely be surprised if he wasn't."
Niese's stopover in New York will be brief. He and fiance Leah Eckman are heading to Jacksonville, Fla., for Daniel Murphy's wedding this weekend. Niese is getting married in January.
Niese is due to have a heart procedure known as "ablation" in the next month to attempt to permanently correct the rapid heartbeat he has experienced sporadically on the mound during the past couple of seasons. The procedure will be performed at the Cleveland Clinic in Ohio.
"It should be before Christmas," Niese said. "It's an in-and-out thing. A one-day recovery. They said, at max, three days' recovery."
As for his visit to Long Beach, which was hit hard by Hurricane Sandy a month earlier, Niese said: "It looks like they're doing a great job cleaning up the streets and fixing up the houses and churches around the area. It's good to see everybody helping out."