NASHVILLE, Tenn. -- General manager Sandy Alderson acknowledged Monday afternoon he has met with other teams throughout the day concerning trade interest in R.A. Dickey. Alderson added that talks with clubs would continue into the evening. The GM said talks with other clubs were not exclusively regarding Dickey. But, the GM said, talks about a player such as Jonathon Niese were not as prevalent.
Alderson insisted he had not resolved to trade Dickey, nor would he say the momentum had moved appreciably in that direction. Still, the GM added, he had not even spoken with Bo McKinnis, Dickey's agent, since arriving in Nashville.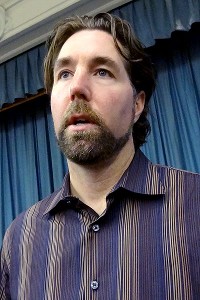 Adam Rubin
R.A. Dickey could be traded by the Mets.
"Everything we did today was preliminary," Alderson said. "We've met with several clubs on a variety of topics -- not just R.A. We expect to do that the remainder of the afternoon and maybe this evening as well."
On scheduling a meeting with McKinnis, Alderson said: "I don't know whether he's at the hotel. I haven't met with him. I haven't talked to him."
Alderson said "several" teams have expressed interest in Dickey.
"But, again, we haven't had meetings with every team that might have interest," Alderson added. "I think we're comfortable saying it's more than two. ... The teams that are interested will approach us. ... We're not out promoting interest or buying billboards at this stage."
Alderson said he would be looking for "difference makers" in return for Dickey -- not low-A prospects. He added that the incoming player would not necessarily have to be an outfielder or catcher -- the two areas of most glaring need for the club.
"What we've tried to say to ourselves is that we have to get back difference makers," Alderson said. "It doesn't have to be a catcher. It doesn't have to be an outfielder. It doesn't have to be anything. But it has to be a difference maker. Because R.A. is a difference maker."
What would be the motivation to trade Dickey? Would it only be based on a contract impasse? Or would it be with an eye toward improving the team several years down the road? Or would it need to make sense for 2013?
"Are we punting '13? Absolutely not," Alderson said. "This is not about making a trade for four players from the Appalachian League. You have to balance the quality of the player with the potential arrival date of the player, obviously. That's something we're trying to do. But it is important for us if we're going to do something -- and I want to emphasize, we may not -- if we do something, we want whatever comes back to us to have an impact on us as soon as possible."
Alderson said a resolution with Zack Greinke as a free agent definitely could affect how much the Mets could command for Dickey in a trade.
"Any time you're looking at a market, you're looking at options," Alderson said. "The more options there are, the more supply, the lower the demand typically. Working in baseball as it typically does, Greinke will have an impact."
Would the Mets grant a potential trade partner a window to negotiate an extension with Dickey?
"Putting aside R.A.'s situation, any time you're providing a window, it complicates things and creates uncertainty," Alderson said. "It's something you'd like to avoid. If you feel you have to grant that, there might be some value to that. It's going to depend from club to club."
Asked if Dickey's popularity and potential fan backlash is a consideration in any potential Dickey deal, Alderson said: "It's a consideration, but in the event we're able to return a 'difference maker,' I think many of our fans are able to understand the value in that. We recognize the value that R.A. represents to us. But I think our fans understand what we're trying to do, where we're trying to go."
On Niese, Alderson said: "I wouldn't characterize him as less available. I'd say we've had fewer conversations about Niese at this point."