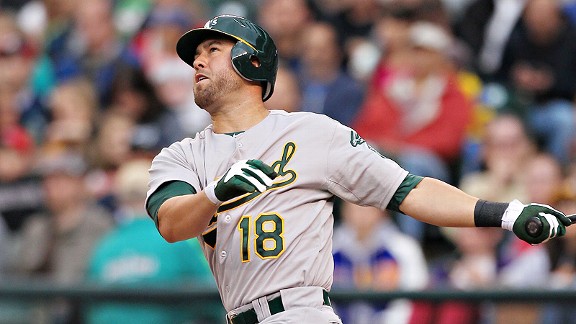 Otto Greule Jr/Getty Images
Former Oakland infielder Brandon Hicks is the new Ronny Cedeno, according to Terry Collins.
NASHVILLE, Tenn. -- Terry Collins offered his insights on a variety of topics Monday afternoon concerning the 2013 Mets:
• Jenrry Mejia will work as a starting pitcher in spring training, while Jeurys Familia will audition as a reliever. If Familia ends up in Triple-A, he likely would work in Las Vegas' rotation.
Would Mejia move to a major league bullpen role late in spring training if the projected rotation remains intact? Collins said that would be a call for a higher authority than him.
• Brandon Hicks, who was acquired from the Oakland Athletics, is penciled into the backup infield role formally held by Ronny Cedeno, who is now a free agent. Collins said that with so many other needs, it's unlikely the Mets will pursue a candidate with better credentials.
"A guy who can play shortstop. He's got some power," Collins said. "He's got a great arm. As we're here right now, he is that guy. At the moment, I think our focus is on a couple of other areas."
• The Mets are targeting Johan Santana to make between 28 and 30 starts next season, despite Santana getting shut down this past season and not pitching after Aug. 17.
• Lefty reliever Tim Byrdak, returning from the same shoulder surgery Santana and Chris Young previously underwent, may begin throwing in May with an eye toward contributing in the second half.
Although Collins said late in the season he wanted a veteran southpaw reliever signed, he now believes the competition for youngsters Josh Edgin and Robert Carson will come from left-hander Scott Rice, who was signed to a minor league deal.
Collins said prospect Darin Gorski, who has started in 74 of 90 career minor league appearances, will get a look in spring training as a lefty specialist as well. Lefties hit .219 and righties .251 against Gorski with Double-A Binghamton this past season. Gorski was added to the 40-man roster this winter to protect him from Rule 5 draft consideration.
• While Justin Turner is only playing second and third base in winter ball, Collins said he is serious about giving Turner exposure to the outfield during spring training. Collins said outfield coach Tom Goodwin will work daily with Turner in February/March.
• Ike Davis will be an everyday first baseman -- not platoon player -- in 2013, Collins pledged.
"Ike needs to play every day," Collins said. "You look at last year, I think he hit eight or nine of his homers against left-handed pitching, which means he can do some damage. To put up the numbers we think he's capable of putting up, he needs to be an everyday guy."
• Matt Harvey is locked into the 2013 rotation. Zack Wheeler ideally would have a midseason call-up, as Harvey did last season. However, Collins acknowledged that if a starting pitcher is traded this offseason, perhaps Wheeler can force his way onto the staff for April.
• Collins' contract, which is only in place through 2013, has not come up for discussion. "It hasn't been brought up, and it certainly is not an issue," Collins said. "Getting this team better is what the issue is."
• Frank Francisco, signed for 2013 at $6.5 million, is the closer. No debate.
• Collins is convinced Ruben Tejada will report early to Port St. Lucie, Fla., for spring training.