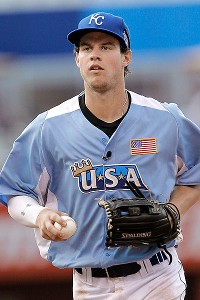 John Sleezer/Kansas City Star/Getty Images
The Mets are trying to land Royals prospect Wil Myers, who would transform the complexion of the outfield.
NASHVILLE, Tenn. -- The Mets continue to aim high in talks with the Kansas City Royals. Multiple sources say the club is still pursuing Kansas City Royals outfield prospect Wil Myers.
Myers, who turns 22 next week, hit a combined .314 with 37 homers and 109 RBIs in 522 at-bats last season between Double-A Northwest Arkansas and Triple-A Omaha.
ESPN's Keith Law writes about Myers:
Myers can flat-out hit, and if we weren't all so busy asking how Mike Trout went only 25th in the 2009 draft, we might be asking how Myers ended up in the third round. (Money was one of the reasons, of course.) Now that last year's knee injury is well behind him, his lower half is working more like it used to, allowing him to drive the ball to all fields. He has a simple, natural swing, with great ability to manipulate the bat, and has shown he can hit all kinds of pitching.