With so little turnover thus far on their roster, it's beginning to look as if the 2013 Opening Day roster will closely resemble 2012 -- albeit minus Tim Byrdak (recoverying from shoulder surgery) as well as free agents Jon Rauch, Ramon Ramirez, Kelly Shoppach and possibly Scott Hairston and non-tenders Mike Pelfrey, Andres Torres and Manny Acosta.
Even GM Sandy Alderson acknowledges the rosters very well will be similar.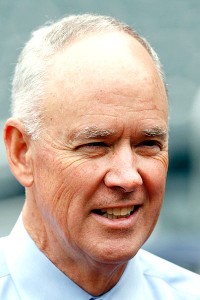 William Perlman/US Presswire
Sandy Alderson acknowledged the Opening Day roster may look a lot like the end of 2012."I would expect the roster will look similar to the way it did at the end of last year -- with some exceptions," Alderson said Tuesday. "It's hard to speculate. When you think about it, the trade market, signing free agents and so forth, it's relatively young in the season. It's hard, really, to accurately predict where things will end up."
David Wright reduced the amount he was owed in 2013 as part of his new deal, Jason Bay deferred money as part of his buyout and Mets officials swear the payroll can inch slightly higher in 2013. Still, Alderson acknowledged, the Mets may not use the available capital -- in part because the prices on the market may not be worth it.
"Again, it's hard for me to predict what exactly will happen," Alderson said. "But we're not going to spend the money in mid-December just because we have it. We may spend it in January. We may spend it at some other time. We may not spend it. But the important thing is we have the flexibility to make a baseball decision about that rather than be constrained by sort of an artificial financial limitation."
The bullpen is one area in need of reinforcements. Currently, Bobby Parnell is the lone established and credible setup man for closer Frank Francisco.
"We'd like to have a little more veteran presence there, but we're excited about some of the young relievers that we have -- some of those that arrived late last season," Alderson said. "So we think that's going to be a plus."