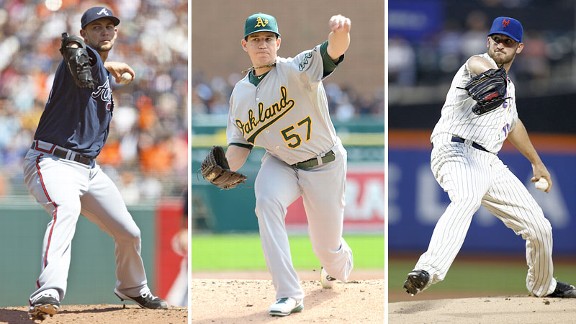 Getty Images
Southpaws (l to r) Mike Minor, Tommy Milone and Jon Niese are three "hidden aces" in the majors.
Jon Niese is one of three "hidden aces" in major league baseball, according to Dave Cameron of FanGraphs. The others, also young lefties: Mike Minor of the Atlanta Braves and Tommy Milone of the Oakland Athletics. Writes Cameron about Niese:
In addition to throwing with his left hand, Niese shares are a lot of similarities with a young James Shields. His average fastball velocity is around 90 mph, and to balance it out he leans heavily on his cut fastball while also working in his curve and change. And, like Shields early in his career, Niese has a problem with allowing home runs, which may be the only thing keeping from being a front-line starting pitcher. From 2010 to 2012, 11.7 percent of the fly balls hit off Niese have left the yard; of the 24 NL starters who have thrown 500 or more innings over the last three years, only Bronson Arroyo has a higher HR/FB rate, and he pitches in a much more hitter-friendly ballpark.
In K/BB ratio, Niese actually grades out ahead of guys like Anibal Sanchez and Johnny Cueto, but his propensity for giving up the long ball has kept his results from matching their numbers. If he can get his home run rate down -- and HR/FB rate is far less predictive than things like walk rate or strikeout rate -- then Niese could be in for a breakout season sooner rather than later.
ESPN Insiders can read the full article here.