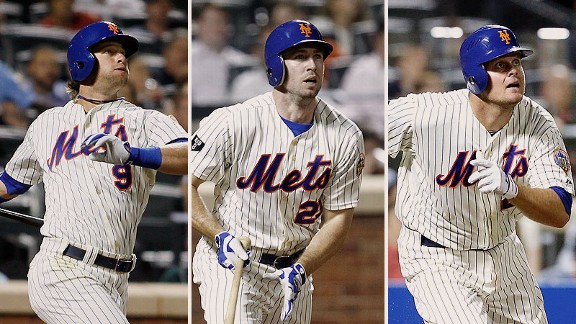 Getty Images
Kirk Nieuwenhuis, Mike Baxter and Lucas Duda comprise the Mets' starting outfield as of today.
The Mets aren't done for the winter after completing the trade with the Jays, correct?
Correct.
After all, if the season began today -- it doesn't -- the lineup would look something like this:
Ruben Tejada, ss -- $500,000
Daniel Murphy, 2b -- $3 million (estimate)
David Wright, 3b -- $11 million
Ike Davis, 1b -- $2.8 million (estimate)
John Buck, c -- $6 million
Lucas Duda, lf -- $500,000
Mike Baxter, rf -- $500,000
Kirk Nieuwenhuis, cf -- $500,000
The bench might include:
Anthony Recker, c -- $500,000
Justin Turner, if -- $500,000
Jordany Valdespin, if/of -- $500,000
Brandon Hicks, if -- $500,000
Brian Bixler, if/of -- $500,000
Rotation:
Jon Niese, lhp -- $3 million
Matt Harvey, rhp -- $500,000
Johan Santana, lhp -- $31 million
Dillon Gee, rhp -- $500,000
Jenrry Mejia, rhp -- $500,000
Bullpen:
Frank Francisco, closer -- $6.5 million
Bobby Parnell -- $1.5 million (estimate)
Josh Edgin -- $500,000
Robert Carson -- $500,000
Jeurys Familia -- $500,000
Jeremy Hefner -- $500,000
Elvin Ramirez (or minor league free agent: Scott Rice, Carlos Torres, Greg Burke) -- $500,000
So what's the payroll?
There are different ways to compute payroll, but I'm told by a team insider the logical way to calculate it for public consumption is the year the salary is originally intended, even if money is deferred. (Other ways are totaling the average annual values of each contract, which is the luxury-tax standard, as well as simply how much cash is spent.)
For our method, Wright's 2013 figure is $11 million for a payroll calculation -- the contract figure, even though $3 million is deferred. Jason Bay's entire $21 million is still assigned to 2013, even though the Mets' actual outlay this year is believed now to be only $6 million. And $31 million is assigned for Santana, which includes $25.5 million in salary and a $5.5 million buyout of 2014.
The payroll figure we calculate will estimate the figures of Davis, Murphy and Parnell, who are eligible for arbitration. (We'll use the MLBtraderumors.com projections.)
We'll use $500,000 for all the players not yet eligible for arbitration, since that's a simple and round number and reasonable approximation.
We'll also have to subtract some money the Jays reportedly are sending the Mets to cover Buck's contract. Let's arbitrarily say the Jays send $4 million, making Buck a $2 million player for the Mets.
That yields a total payroll in 2013, including Bay, of $90.3 million. (Remember, that's NOT cash outlay; that's money assigned to 2013.)
Mets officials consistently insist -- one did again this weekend -- the payroll can go up in 2013, compared with the roughly $95 million in 2012. The reason it may not, they insist, is because free agents are priced beyond what they are worth.
A team insider projected no contract of more than $10 million would be awarded by the Mets during the remainder of this offseason, but that the Mets would be primed to make those types of offers in a year if warranted. That means scratch off free-agent Michael Bourn from your wish list.
Let's face it, though: The Mets are going to add one or two righty-hitting outfielders to the lineup during the remainder of the offseason. The outfield lineup listed above (Duda, Nieuwenhuis, Baxter) will not be starting on Opening Day -- not all three, anyway.
That could mean Scott Hairston or Cody Ross is signed as a free agent, although they'll be judged against their price tag, not strictly on which is better. Or it could mean a yet-to-be-realized trade could bring back an outfielder -- potentially with a salary commitment attached.
As for pitching arms, the Mets are content to wait out the market and scoop up lower-priced players in January who might prove valuable relative to their price, as they have done with Chris Capuano and Chris Young in previous offseasons.