Post baseball columnist Ken Davidoff tweeted his Hall of Fame ballot Wednesday. Getting the nod: Jeff Bagwell, Craig Biggio, Barry Bonds, Roger Clemens, Kenny Lofton, Edgar Martinez, Tim Raines, Curt Schilling, Alan Trammell and Larry Walker.
Left off: Mike Piazza, in his first year of eligibility.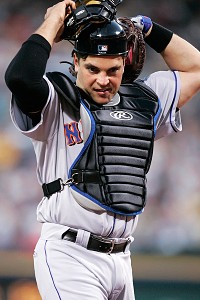 Paul Abell/US Presswire
Mike Piazza, now retired for five seasons, appears on the Hall of Fame ballot for the first time.
The explanation did not include Davidoff alleging any improper performacing-enhancing-drug use by Piazza.
Davidoff writes on his blog:
If you watched Piazza play, you were captivated by him. Did anyone else hit those heat-seeking missiles like he did? You felt like all of his homers flew about a foot over the shortstop's glove and then soared over the wall, breaking a car window in the process.
He hit 427 home runs, with 396 of those as a catcher. More than any other catcher in baseball history.
But again: The goal here isn't to get caught up in images, or to hone in on any one number. It's to look at the whole picture.
If Piazza is on next year's ballot -- I assume he'll get the five percent of the votes necessary to carry him over -- then I absolutely would consider voting for him. He's a very worthy candidate. On this clogged ballot, though, I don't believe he's one of the 10 best. Not when you look at the historical value measures like WAR and JAWS.
What I did was, I looked at every candidate on this ballot and ranked him according to both WARs, Baseball-Reference's WAR7 (which takes a candidate's best seven seasons by WAR, to consider a player's peak) and Jaffe's JAWS. I rewarded a player one point for finishing first in a column, two points for second, etc. -- and then ranked them by lowest score to highest. Bonds, for instance, ranked first because he had just four points; atop all four categories, he received one point for each.
Using this process, Piazza placed 14th on my list of candidates.