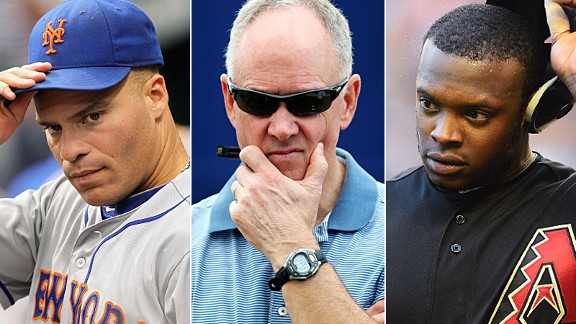 USA Today Sports
Scott Hairston remains a potential re-signing for the Mets, but Sandy Alderson sounded in a generic sense like acquiring Justin Upton in exchange for significant prospects did not make sense for the Mets at this juncture.
Sandy Alderson joked in November about his outfield, "What outfield?"
Now, though, there is a reasonable chance the Mets may arrive at spring training with the most notable outfield additions since that comment being righty hitters Collin Cowgill and Andrew Brown.
If that is the case, the Mets likely would have Lucas Duda in left field, Kirk Nieuwenhuis and Mike Baxter as other lefty-hitting outfielders, and some combination of Cowgill, Brown, Brian Bixler and even infielder Justin Turner as righty-hitting outfield options.
"It's conceivable we'll go with what we have, but we're still looking," Alderson told ESPNNewYork.com on Monday. "I wouldn't say that we're satisfied with what we have. But if we don't find what we think is a meaningful upgrade, then it's possible we'll go with what we have. Yeah."
Alderson nonetheless added that free agents remain within the Mets' spending parameters that would qualify as "meaningful." He willingly acknowledged Scott Hairston falls into that category and still remains a potential re-signing.
The GM painted a less-likely scenario of a trade materializing to address the outfield.
"I still think there are some players out there, including Scott Hairston, who might be available as free agents," Alderson said. "A trade is always a possibility, but I wouldn't predict that. Other than that, I can't speculate what will happen. We're not unhappy with the position we're in right now, which is to say: still looking, with viable possibilities remaining."
Of course, Justin Upton has been widely speculated as a potential trade candidate from the Arizona Diamondbacks. Speaking generally and not specifically about Upton, Alderson appeared to agree with the sentiment that the Mets are not yet in a position where it makes sense to trade multiple prospects on the cusp of major league careers for a veteran in the prime of his career with a notable financial commitment. The objective, instead, remains to collect young pieces.
"As a general proposition I would agree with you," Alderson said. "But one of the reasons for acquiring as many prospects as possible is at some point being able to convert them into major league players, either as they develop or as part of a trade. At this particular juncture we're not eager to trade our prospects, and certainly there's some that we wouldn't trade. At some point that will become a reasonable option for us."