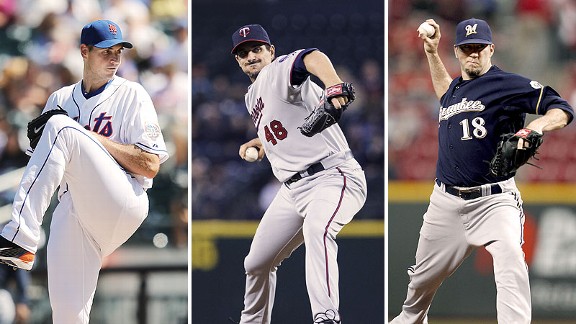 USA Today Sports
Starting pitchers Chris Young, Carl Pavano and Shaun Marcum remain on the free-agent market.
After trading R.A. Dickey last month, Sandy Alderson indicated his intention was to fill the rotation void with an outside addition of sufficient quality to slot into the rotation -- albeit not of Dickey's caliber. The GM specifically said he would not seek someone to show up at camp and compete with Jenrry Mejia and Jeremy Hefner. The newcomer would get a spot as a starting pitcher.
Alderson maintained that posture Monday.
The GM told ESPNNewYork.com he is looking for someone of the Chris Young or Carl Pavano ilk to round out an April rotation that also would include Jonathon Niese, Matt Harvey, Johan Santana and Dillon Gee. (Ideally, Zack Wheeler will make his major league debut midseason.)
"I couldn't identify who that might be at this point, but that general category of player is probably what we're looking at," Alderson said.
Another free agent, Shaun Marcum, would seem to be priced at a higher level than the Young/Pavano types and therefore go beyond the Mets' spending appetite. Marcum went 7-4 with a 3.70 ERA in 21 starts last season with the Milwaukee Brewers while earning $7.7 million.
Alderson would not comment, however, whether Marcum fit a category of player priced beyond the Mets' willingness to spend.
"You know, I don't want to get into individual players if I can avoid it," Alderson said.