Twenty-nine major league teams have signed a free agent to a major league contract this offseason.
The lone exception? That would be the New York Mets, who only have awarded minor league contracts.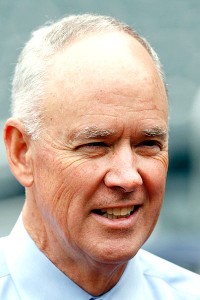 William Perlman/US Presswire
Sandy Alderson is the only GM not to award a major league contract to a free agent this offseason.Awkward?
"It doesn't feel awkward at all," Sandy Alderson said with a laugh. "It probably will change."
Although it may be a stretch as far as an explanation, Alderson suggested a limited number of open 40-man roster spots partially has stalled the Mets in signing a free agent to a major league deal.
He suggested the Mets likely would add one or two players on major league deals before pitchers and catchers report to Port St. Lucie, Fla., on Feb. 11.
"We came into the winter meetings with 38 or 37 [players on the 40-man roster]. We understood we had limited roster space after we added, I think, six or seven players to our roster before the Rule 5 draft," Alderson said. "We've been careful to protect those spots. But I would suspect one or two of them will be used by the time we get to spring training."
In three offseasons as general manager of the Mets, the biggest free-agent contract awarded by Alderson has gone to Frank Francisco. It was worth $12 million over two years.
So, in fairness, Alderson has been constrained by the Mets' payroll limitations coupled with inherited contracts -- even if he does not show an affinity for spending wildly in free agency anyway.
"We will be, over the course of the next year, emerging from the shadow of some large contracts," Alderson said. "And that may portend more activity -- and significant activity -- in the free-agent market."