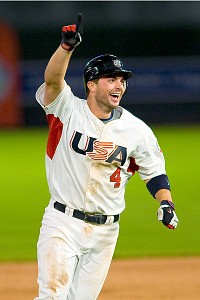 Scott Rovak/US Presswire
David Wright, who will represent Team USA in the WBC, plans to arrive in Florida right after the Super Bowl.
David Wright, traditionally an early reporter to spring training anyway, plans to arrive in Port St. Lucie, Fla., this year shortly after the Feb. 3 Super Bowl.
Mets position players officially report Feb. 16.
Wright, who will play for Team USA in the World Baseball Classic, said his offseason work in his native Virginia has not yet been accelerated in order to be at game speed by the tournament.
"Pretty much same routine as usual. I'll get down to Florida same time -- right after the Super Bowl," Wright indicated. "I'd like to see some live pitching a little sooner than usual just to try to prepare for the WBC. [Tim] Teufel lives down there, so I'm sure we will get together for some defensive stuff as well."
Team USA begins play in Arizona on March 8 against Mexico. Its first-round pool also includes Italy and Canada.