Johan Santana currently is ineligible for the World Baseball Classic, but the southpaw is aiming to represent Venezuela in the March tournament anyway.
Santana is genuinely interested in representing his country, as he did in 2006, two friends of the pitcher insisted.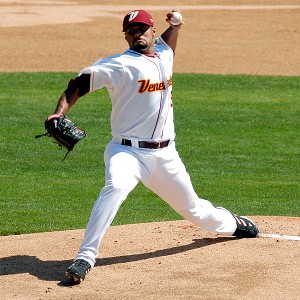 Phelan M. Ebenhack/Associated Press
Johan Santana may again be donning the Venezuela uniform during spring training, as he did in 2006.
One hurdle remains for him to get clearance.
The WBC has to insure the contracts of all players who participate, so that a major league team does not end up having to pay the regular-season salary of a player unavailable because he was injured during the tournament.
In order for the WBC to insure a contract, it has to be convinced the player is healthy. That way, the tournament does not end up obligated for the contract because of a preexisting injury.
Santana automatically ended up on a disqualified list because of his 2012 disabled-list time.
A player automatically lands on that list -- officially known as the "chronic condition" list -- because he:
• Spent 60-plus days on the DL in 2012 -- at least 15 of those coming in the final 60 days of the season;
• Was unable to play in two of his club's final three games of the regular season;
• Underwent surgery during last season, or received a recommendation for surgery;
• Or, had been on the DL on Aug. 31, 2012.
Santana did not pitch after Aug. 17 last season -- officially because of lower-back discomfort and fatigue, not any damage to his surgically repaired pitching shoulder.
Troy Tulowitzki, who wants to represent Team USA, like Santana currently is disqualified because he meets at least one of those criteria.
A player on the "chronic condition" list still may be certified for the tournament if a WBC committee signs off. That is the expected route Santana will pursue, since he is said to be feeling good as he ramps up for spring training.
There is plenty at stake financially. In the final guaranteed season of his six-year contract with the Mets, Santana is due to make $31 million, including a $5.5 million buyout of his 2014 contract.
The certification process likely will be handled later this month. Santana was not listed on Venezuela's provisional roster, which was released Thursday. He will aim to be added, though, before the final rosters are due Feb. 20.
Venezuela's opening round will be in San Juan from March 7-10 against the Dominican Republic, Spain and Puerto Rico. The WBC team has a tune-up against the Mets in Port St. Lucie on March 6.
"This is not about players who are currently injured. They are there because they were on the DL for a time [in 2012]," Venezuela GM Carlos Miguel Oropeza told El Nacional newspaper. "The case of Santana is vital for us."
David Wright officially is the only Met currently scheduled to play in the WBC.