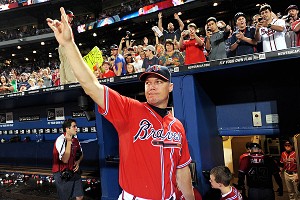 Kevin Liles/US Presswire
Chipper Jones is staying retired.
During a weekend visit to New York, retired Chipper Jones said Saturday that he momentarily considered a comeback this offseason.
"I love being on this stage," Jones said at the New York BBWAA dinner, where he was recognized for his stellar career. "I've said my whole career: I think if you can be successful in this stage, in New York, be able to tune out all the distractions and have to play some pretty darn good baseball teams up here in the meantime, you can be successful anywhere.
"I actually have a confession to make. I started to get the itch to kind of go back to spring training last week. I was on the Braves' web site, just kind of messing around on my computer. I was thinking to myself, 'You know what? I think I'm going to go down and get me a workout in, see how everything feels.' I was down there for about five minutes and I figured I'd go to Hawaii instead.
"Things don't work at 40 the way they used to."