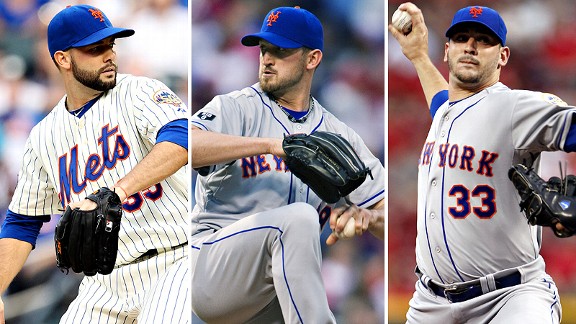 USA Today Sports
Dillon Gee, Jon Niese and Matt Harvey will have to pick up the slack with the departure of R.A. Dickey.Twenty-game-winner R.A. Dickey has departed, leaving the Mets with a rotation of Jonathon Niese, Matt Harvey, Johan Santana, Dillon Gee and a to-be-signed player -- potentially Chris Young.
So is the rotation still a strength of the Mets? After all, the Mets are now getting a full year of Harvey. And top prospect Zack Wheeler should be up this summer.
Mets starters had a 3.83 ERA last season, which ranked eighth in the 16-team National League.
"I think the starting pitching will be good," said a National League scout.
Actually, the scout added, the concern is about how the bullpen and fielding up the middle will affect the starting pitchers' output.
"I'm mostly concerned about their bullpen and defense," the scout said. "Their outfield defense is very suspect. And their middle-infield defense is OK, but it doesn't have a lot of range."
What should be expected from Santana, who had a solid first half, but who posted an 8.27 ERA in 10 starts after his historic no-hitter before being shut down?
"I think that no-hitter really took a lot out of him," the scout said. "I don't think it injured him. I just think it took a lot out of him. If he's hurt, we'll find out. It won't take long to find out. I don't think he ended his season injured, though. I really don't."
Harvey had a 2.73 ERA in 10 major league starts last season. He allowed 42 hits, walked 26 and struck out 70 in 59 1/3 innings.
"I wouldn't put too much stock in the strikeouts per innings pitched," the scout said. "It's way too early. The whole league hasn't seen him. He hasn't had to make adjustments to them. The hitters haven't had to make adjustments. It's too early. He just needs to take the ball every fifth day, get 30 starts and you'll have a pretty good idea of what you've got. I think he's going to be good. I like him."
Can Niese ascend into the upper echelon of southpaws in the NL?
"There's a lot of scouts that like him. A lot of scouts would love to have him," the scout said. "He's got really good stuff. He hasn't taken it to the next level yet. It's kind of like the (NFL's) Harbaugh brothers. You know they're good, but they hadn't got to that next level until Sunday.
"So everybody is waiting for him to stop being a No. 4 starter and become a No. 3 or a No. 2."