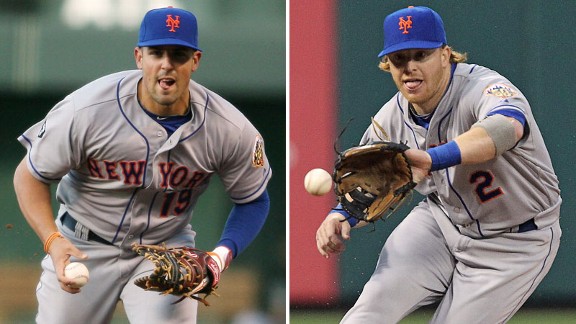 USA Today Sports/Getty Images
Terry Collins wants to look at Zach Lutz and Justin Turner in the outfield during spring training.
Terry Collins plans to give righty-hitting infielders Justin Turner and Zach Lutz looks in the outfield during spring training, he told ESPNNewYork.com on Thursday.
That will be more relevant assuming the Mets do not sign Michael Bourn, which would mean the Mets might be going with only players already on board.
Lutz has exclusively played corner infield as a professional, with the exception of three games at second base in 2008 with Brooklyn. Turner's lone professional experience in the outfield came in eight games in 2006 with rookie-league Billings -- four apiece in left and right field.
Lucas Duda would man left field, with Kirk Nieuwenhuis and Collin Cowgill expected to share center field. That leaves the Mets needing a righty complement for Mike Baxter in right field. Andrew Brown might be the best candidate for that role, but Collins enters spring training not yet acquainted with the former Cardinal/Rockie's ability, so he is open to considering Turner and Lutz.
Turner otherwise would be viewed as an infielder.