Sandy Alderson said Sunday he is "very reluctant" to part with the Mets' first-round pick in the draft in order to sign free agent Michael Bourn.
"If we were to sign a player like Bourn or [Kyle] Lohse or any free agent due compensation, then we would lose the 11th pick in the draft, which would be really the most valuable first-round pick that could be lost in connection with a free agent," Alderson told Jim Bowden and Jim Duquette. "So we've been very reluctant to consider that. In some ways I think you're right that the blueprint here is to rebuild the farm system at the same time that we try to be competitive. And for us to lose a first-round pick would be counter to that approach.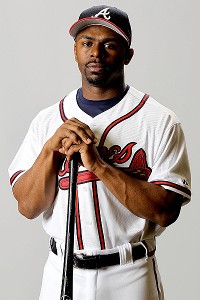 Matthew Stockman/Getty Images
Michael Bourn
"We have added significantly to our minor league system with the trade of R.A. Dickey and the acquisition of Zack Wheeler last year. So the farm system is in much better shape than it had been. And, so, we're in a position to at least consider the possibility of losing a draft pick. But, at the same time, we're very reluctant to do so."
Alderson said he would like to know firmly before completing any deal with Bourn whether the Mets can get the No. 11 pick protected. But for now he can pursue Bourn with agent Scott Boras unaware of what the final verdict would be.
The Mets assert teams with the 10 worst records the previous season should have their pick protected. The collective bargaining agreement says the first 10 picks are protected. The Pittsburgh Pirates leapfrogged the Mets, bumping the Mets from the top 10, because Pittsburgh failed to sign its 2012 first-round pick.
"Obviously we want to have some sense of which way that interpretation would go before we made any final decision," Alderson said. "But, at this point, it's all speculation."
Alderson also implied that had Justin Upton been traded before Scott Hairston signed with the Chicago Cubs, the Mets might have inked Hairston.
"Well, we continue to look for ways to improve the outfield," Alderson said. "It's funny, with Scott Hairston, if you recall the other day, Scott Hairston signed one evening and Justin Upton was traded the next morning. Had it happened the other way, who knows? It might have turned out differently.
"One of the reasons we didn't pursue Scott as ardently as some people thought we might is that he was looking for a full-time role somewhere in the outfield. And we had some hopes that perhaps we'd be able to acquire someone to do that by trade. It didn't work out. So we continue to look. But, I think realistically at this point, there's not a lot left on the shelf. So at some point we have to realize that, well, perhaps the outfield is not the strength of our team. But at least going into spring training we may be looking at what we have and not being able to make an addition.
"We keep looking. But, at the same time, in terms of significant upgrades on the free-agent market, not a lot available. We continue to talk to clubs about possible trades, but at this stage most teams, as you know, are beginning to prep for the beginning of spring training and the trade activity is probably going to begin to diminish."