Replacing 20-game-winner R.A. Dickey will be a collaborative effort among the starting pitchers on the New York Mets, not a burden solely falling on him, right-hander Shaun Marcum said.
Marcum, 31, officially became a Met on Wednesday after passing a physical.
"As far as filling R.A. Dickey's shoes, I think that will be tough to fill, having one person do it," said Marcum, who will earn $4 million, with the opportunity to earn an additional $4 million in incentives. "I think if all five starters go out there and do their jobs, stay healthy, get to the goal of 200-plus innings, then I think that will fill R.A.'s shoes in itself -- having those five guys make 30-plus starts.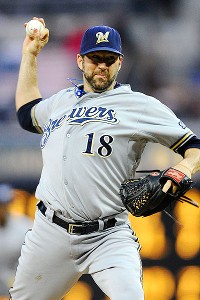 Christopher Hanewinckel/USA TODAY Sports
Ex-Brewer Shaun Marcum officially became a Met on Wednesday.
"The teams I've been on that made it late in the season, where we were still in the playoff race, we didn't use that many starters. Everybody stayed healthy and everybody made their starts. If we can do that, that'll be able to help replace the hole that was left when R.A. was traded."
Marcum, 31, went 7-4 with a 3.71 ERA in 21 starts for the Milwaukee Brewers last season. He spent nine weeks during the summer on the disabled list with right elbow tightness, but said the injury was nowhere near as grave as the issue that led to him undergoing Tommy John surgery on Sept. 30, 2008.
"We did MRIs, all that stuff. Nothing alarming," Marcum said about last season's DL stint. "We did another one this winter to make sure. And there was nothing alarming. I don't know what exactly it was, but the main thing is it wasn't a flexor tendon or a ligament or anything like that."
Marcum missed the entire 2009 season recovering from Tommy John surgery and because of back soreness that he experienced while making minor league rehab starts that July.
He said he would have liked to have signed a multi-year deal this winter, but "nothing came about."
The signing rounds out a projected Mets rotation that also should include left-handers Johan Santana and Jonathon Niese and right-handers Matt Harvey and Dillon Gee. Top prospect Zack Wheeler, a right-hander, is expected to open the season at Triple-A Las Vegas and make his major league debut this summer.
Dickey was traded to the Toronto Blue Jays on Dec. 17.
Marcum went 20-11 with a 3.60 ERA in 53 starts over two seasons with Milwaukee. He was acquired by the Brewers from the Blue Jays on Dec. 6, 2010 for second baseman Brett Lawrie.
Marcum suggested Mets special assistant J.P. Ricciardi, who drafted him while general manager of the Jays in 2003, was a driving force behind the Mets' interest.
"I know he pushed a little bit. I can't say how much. But I know he had some say in getting me there," Marcum said. "And the other thing, for me, was an opportunity to go out and pitch -- make 30-plus starts -- and an opportunity to go out and throw over 200 innings. I think that's every starter's goal. They're giving me the opportunity to do that."
Marcum and Mets catcher John Buck were batterymates with Toronto in 2010, when Marcum had "probably my best season in the big leagues," going 13-8 with a 3.64 ERA in 31 starts.
"I don't have to try to go over my game plan with three or four different catchers," Marcum said. "John already knows how I pitch, what I like to do."
Marcum plans to arrive in Port St. Lucie, Fla., by the end of next week -- ahead of the Feb. 11 report date for pitchers and catchers.
He said he has been throwing more this offseason than in other years as a pro to build up his arm strength.
"I'm actually throwing more than I did," Marcum said. "The philosophy I was brought up in [as a pro] was kind of 'save your bullets, don't throw too much.' I kind of went back to my old high school, college days when my arm was feeling great. I was throwing as much as I possibly could. Throwing every single day. Throwing more distance. Long-tossing out to 280, 300 feet. And I've just been building up that arm strength. And I've had no problems since I started my program."