Sandy Alderson and his deputies addressed season-ticket holders on Wednesday night at Citi Field. Here's a summary from those who tweeted from the event, including @JLeopold516, @berkson0 and @michebag22:
• Alderson insisted the lack of spending this offseason was his decision, not ownership imposed.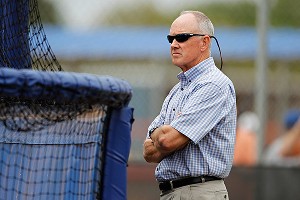 Jeff Roberson/Associated Press
Sandy Alderson
"The reason we haven't spent the money is not because of Fred Wilpon," he said. "It's because of me."
If that's true, when will the Mets ever spend on a big-time free agent then? After all, there may always be one overaggresive bidder for a prized free agent, leaving Alderson to conclude it's not prudent to bid that high.
"We understand what the market dictates and we have to be prepared to exist in that market," said Alderson, who indicated there is an urgency to winning, and that he has not set out on a 10-year plan.
"Am I going to recommended that we sit here in New York City and function like the Oakland Athletics for the next 10 years?" he continued. "No I'm not. ... I'm not asking you to believe me until you see some manifestation of that, which I hope is sooner rather than later."
• Alderson said the Mets were never legitimately in trade talks with the Arizona Diamondbacks for Justin Upton because they would not consider trading Matt Harvey or Zack Wheeler.
• As for the current outfield, Alderson said: "I'm not telling any jokes about the outfield. We've got lots of guys coming into camp and we're in the running for a free agent (presumably Michael Bourn, which raises the whole draft-pick compensation issue and appears a long shot). ... I can speculate the outfield wont be a strength for us this year."
• Mets executives harped on the minor leagues, with Alderson saying: "Success of big-market teams is not just money, but a successful farm system. We have a renewed effort in the draft."
• Alderson predicted the Mets "will be as deep as we have ever been in the bullpen."
• There are no current plans to play prospect Wilmer Flores in the outfield. Flores will play third base and second base at Triple-A Las Vegas.
• Alderson called John Buck a "first-rate catcher."