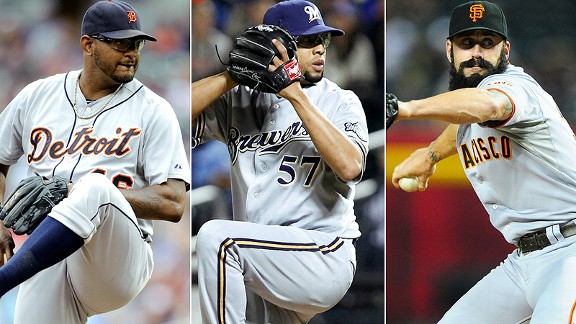 Getty Images/US Presswire
Jose Valverde is definitely on the Mets' radar, while Francisco Rodriguez is considered less likely and Brian Wilson a long shot.
Mets GM Sandy Alderson, who expressed serious concern with Frank Francisco as his closer, is trying to remedy the situation.
Alderson is pursuing Jose Valverde to compete with -- or more likely unseat -- Francisco as closer, a baseball source told ESPNNewYork.com.
The deal with agent Scott Boras for Valverde would have to be on the Mets' terms, though. That means it would probably be akin to the contract to which Shaun Marcum agreed -- $4 million base, with a similar amount in incentives based on games finished or saves, in Valverde's case.
Valverde, 34, went 3-4 with a 3.78 ERA and produced 35 saves for the Detroit Tigers last season. He earned $9 million in 2012.
The Mets have tried to be inventive in locating a candidate to unseat Francisco, who will earn $6.5 million this season. Two baseball sources said Mets brass visited Roy Oswalt to try to convince him to come on board as the Mets' closer. But he is ultimately uninterested in following the path John Smoltz traveled from rotation to closer, so Oswalt won't be coming on board.
The Mets even would consider reuniting with Francisco Rodriguez, who had an interesting end to his Mets tenure -- the Citi Field incident with his girlfriend's father, and then he was hurriedly traded to a team that would have been on his no-trade list if it had been properly submitted.
However, a K-Rod reunion is unlikely. Boras, who also represents Rodriguez, is believed to still be seeking about $7 million for the right-hander's services.
Brian Wilson, the closer who has been linked the most to the Mets, is now considered very unlikely to be signed by New York. He threw only 20 pitches with low velocity when the Mets auditioned him last month at UCLA, and he is deemed not ready to return yet from Tommy John surgery.
The Mets expect to add to their bullpen before pitchers and catchers report in 10 days. They have one serious offer out to a late-inning reliever (but not a closer) and expect to hear back shortly. It's unclear which reliever that may be, but those who fit that profile include Brandon Lyon and Kevin Gregg.