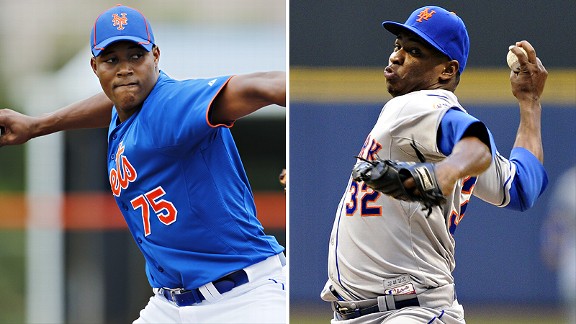 Associated Press
Jeurys Familia will work as a reliever during spring training, while Jenrry Mejia will audition as a starting pitcher.
Jenrry Mejia will work as a starter during spring training, while Jeurys Familia will work as a reliever, Sandy Alderson said Monday.
Both may end up at Triple-A Las Vegas if the projected roster shakes out as optimally designed.
Mejia is boxed out of the rotation by Johan Santana, Matt Harvey, Jonathon Niese, Shaun Marcum and Dillon Gee.
Familia has to unseat a reliever from a bullpen that may include Frank Francisco, Brandon Lyon, Bobby Parnell, Scott Atchison, Josh Edgin, LaTroy Hawkins and Pedro Feliciano.
Alderson added that left-hander Robert Carson, who performed capably at the major league level last season, similarly could be boxed out and wind up in Vegas if the bullpen shakes out as intended. Alderson was noncommital about whether Familia would work as a starter or reliever if he ended up in Triple-A, although the GM may have hinted at the latter when he noted it is ideal at some point in the minors to groom a player for his ultimate major league role.
Asked if it was not ideal to have so many veterans potentially boxing out young players from developing at the major league level, especially if the Mets have an eye toward the future perhaps more so than the present, Alderson acknowledged there is a balancing act. He added that with respect to the bullpen, there is little invested in most of the veterans, who were signed to minor league contracts. So making room at some point for Familia would not be as painful as if there were a sizable commitment to a veteran.
"The jury is still out on Familia as a starter or reliever, so to the extent that he's not in our pen coming out of spring training -- and he may very well be -- that's not necessarily getting boxed out," Alderson said. "The other nice thing is that we don't have such a huge investment in most of our bullpen that we can't make a move to make room for a young guy if it's warranted."