Sandy Alderson insisted the Mets had the resources -- financially and prospect-wise -- to add significant pieces this winter via free agency or trade. And the GM went on to suggest the Mets are not far away from adding those type of big pieces and returning to contention.
"We're not that far away, OK?" Alderson said Monday. "So we're talking to a free agent at the moment (Michael Bourn). We had conversations with some clubs about acquiring another significant outfielder. The important thing to realize is we have the resources to accomplish those things. In the one case (Justin Upton), we didn't acquire a player because we weren't prepared to trade Matt Harvey or Zack Wheeler. It was that simple. But we had the players to make the deal if we so chose.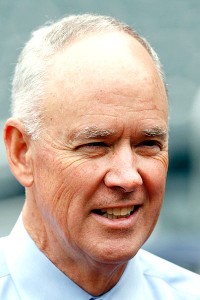 William Perlman/US Presswire
Sandy Alderson"The same is true with free agency. We're getting to the point where we can be in the mix. And if you look at the fundamental composition of our team, it wouldn't take more than a couple of moves to change the whole perception of things. I don't want anybody to believe this is a long-term project that has no possible realization anytime soon. We're at the point where we can make significant improvement in a hurry. And we've been looking at ways that we can actually do that. The fact that those things may not come to fruition doesn't mean they're not possible or close to being achievable.
"And if those things happen, I don't think it's a leap of faith that we could be very good. So it's not that far off. This is not one of those things where, 'OK, gee, another two, three, four years -- whatever.' No, we've got the currency, which is the young talent, to be in play for some of these things. We're not that far away."
Alderson also continued to maintain the Mets are not "punting" the 2013 season.
Why the confidence?
"First of all, we haven't found a replacement for R.A., but we're happy that we've been able to add Shaun Marcum," Alderson said. "Together with the young pitching that we have at Triple-A, including Zack Wheeler and [Jenrry] Mejia and so forth, and the room for growth in the rest of our rotation, I think we're pleased with how our power rotation shapes up.
"The bullpen can't be worse, and I think has room to be a lot better. The catching, the infielders -- solid and room for growth.
"I think we should be careful not to extrapolate too far just from the perceived state of our outfield. We're looking forward to this season, and I'm excited to see what we have. And I'm excited to see what those outfielders can provide us. We're always looking to improve. But I expect we'll be better."