PORT ST. LUCIE, Fla. -- Ike Davis publicly portrayed his diagnosis of valley fever last February as a nonissue, insisting it was giving him no problems and was a latent case at worst.
In reality, Davis confessed Friday, he would retreat home after Mets workouts last spring training and retire to his couch because of exhaustion.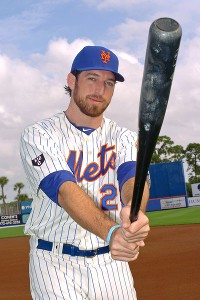 Steve Moore/Associated Press
Ike Davis said he was fatigued all last spring training.He feels far more energy now, he added.
"I had to limit a lot of things last year as far as workload," Davis said. "I didn't have a beer all of spring training last year. I went home and laid on the couch. And I usually fish for another six hours every day [after Mets workouts].
"I didn't say anything to anybody, besides maybe the trainers."
Davis isn't sure that precisely was valley fever, but added: "Well, I definitely had something."
Davis got off to a horrific start to last season. His average did not permanently reach .200 until July 4.
He did rally, with 27 of his career-high 32 homers coming after June 11.
A "super two" because he was called up to the majors on April 19, 2010, Davis was eligible for arbitration a year early -- this past offseason. He settled with the club for $3.125 million.
If Mike Jacobs and Fernando Tatis had done a better job as a first-base platoon three years ago with the Mets, and if Davis' promotion had been delayed until that summer, he would not have been eligible for arbitration this year and instead would have earned close to $500,000.
Either way, Davis first will be eligible for free agency after the 2016 season.
Davis does not know the precise reason for his horribly slow start last season.
It could have been rust. After all, he had not played since the previous May 10, when he collided with David Wright and suffered a season-ending ankle injury.
It could have been fatigue-related. The ankle, truth be told, wasn't fully healthy to start last season, either.
Davis also noted he is typically a slow starter anyway, except for 2011, when he had a monster beginning (.302, 7 HRs in 36 games) before suffering the ankle injury. He figured he was destined for an unbelievable year that season because of his atypically good start.
Davis said he was unable to hop on one leg last spring training because of the residual effects of the ankle injury. Now, not only can he do that, but he feels a burst as he pushes off. Davis said he already feels a noticeable difference taking batting practice, which he described as an "explosion."
"It's a whole different ballgame," Davis said.
He added: "I didn't feel like myself. I wasn't the same guy on the field. Obviously, you could tell. I didn't do anything. When I play, I have the potential to make an impact. I just wasn't doing anything to help."