PORT ST. LUCIE, Fla. -- The Mets offered Michael Bourn a near-identical contract to the four-year, $48 million deal to which he has agreed with the Cleveland Indians, a major league source told ESPNNewYork.com. The Mets' offer did not include an option for a fifth season.
The same source believes the Mets were Bourn's first choice.
However, the Mets were unwilling to give up the 11th overall pick in the draft as a penalty for signing the free agent, which ultimately scuttled Bourn becoming a Met.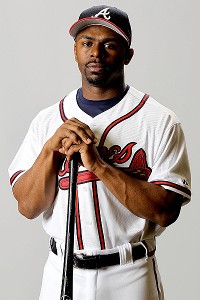 Matthew Stockman/Getty Images
Michael Bourn is Cleveland-bound.
The Mets originally were willing to pursue an expedited grievance hearing with the Players' Association and agent Scott Boras to try to get that pick protected from being forfeited, but the hearing might have taken two weeks because arbitrators are consumed with salary arbitration hearings at the moment, souring the team's appetite to pursue that route. Under other circumstances, an expedited hearing might take only two to three days.
The Mets did have hesitation going down that grievance road given the potential time frame because if they got a favorable ruling on the 11th overall pick being protected, Boras would have had public leverage from the Mets' fan base and potentially forced the club to bid even more aggressively for Bourn.
Meanwhile, Boras ultimately did not want to go down that grievance road because had it turned out that an arbitrator ruled the pick remained unprotected and the Mets bowed out, the Indians' offer likely would have gone away by the time there was a resolution from an arbitrator -- potentially leaving Bourn without a home, or at least any remaining leverage.
"Scott did the right thing for his client," a major league source said.
As a result, it appears the Mets' outfield looks fairly concrete: Lucas Duda should be the left fielder, with Kirk Nieuwenhuis and Collin Cowgill the likely platoon in center. Lefty-hitting Mike Baxter then should share right field with a righty-hitting candidate from a group that includes Marlon Byrd, Andrew Brown, Zach Lutz, Brian Bixler and Justin Turner.
How valuable is the No. 11 overall pick? Here are the players taken in that slot from 1996-2008: Adam Eaton, Chris Enochs, Josh McKinley, Ryan Christianson, Dave Krynzel, Kenny Baugh, Jeremy Hermida, Michael Aubrey, Neil Walker, Andrew McCutchen, Max Scherzer, Phillippe Aumont and Justin Smoak. Four of those picks never reached the majors. So the pressure will be on Paul DePodesta to find a Walker, McCutchen or Scherzer this June.
The Mets, for those still unfamiliar, were bounced from a protected top-10 pick because Pittsburgh failed to sign its first-round pick in 2012.