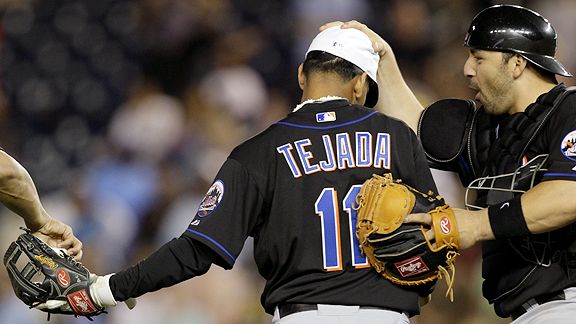 AP Photo/Carolyn Kaster
Rookie Ruben Tejada gets congratulations from catcher Rod Barajas after calling for the game-ending pickoff play at second base and retiring Washington's Roger Bernadina.
If the Mets' playoff fate ultimately is decided by one game this season, as happened in 2007 and '08, Alex Cora suggests reflecting on the final out of the Mets' 5-3 win against the Washington Nationals on Friday night.
Twenty-year-old rookie Ruben Tejada, filling in for injured Jose Reyes at shortstop, called for a pickoff throw from veteran closer Francisco Rodriguez. Tejada blocked the base with his foot and applied a tag on retreating Roger Bernadina.
The pickoff for the game's final out deprived pinch hitter Willie Harris of a chance to bat with the count full and the tying runs on base.

#11 2B
New York Mets
2010 STATS
GM

23

HR0

RBI4

R15

OBP.309

AVG

.243
"I'll tell you what, for a 20-year-old kid to make that call -- because he made that call -- that's instincts taking over," said Cora, who was manning second base. "The positive thing that I see -- even though offensively he didn't have a big game, he didn't get a hit or whatever -- to have the presence of mind to put that daylight in that situation, defensively he's ahead of a lot of people.
"That's why you once a month, or once every two weeks, go to pitching fielding practice, although you hate showing up early. That's why you do it. As we all know, one win for this organization, you can win or lose a pennant. Hopefully we can look back. It's not that we stole this one, but that play, it helped us out. Hopefully we can look back and say, 'Wow, on July 2 when Ruben put that play on and Frankie executed it, it was a great win for us and helped us to get where we're supposed to go.'"
K-Rod suggested the pickoff was the last thing he was thinking about given the game was on the line, but he saw Tejada break for the bag and flash his glove and Bernadina lagging.
"As soon as I turned over there, I saw him breaking in. The runner didn't even move," Rodriguez said. "I knew I had all the chance in the world."
As for Tejada's contribution, K-Rod added: "He did a great play, honestly. I will give all the credit to him. As soon as I turned to check the runner, he was breaking to the base. … You're not thinking about that. You're thinking about getting the hitter out. That's the last thing that crosses your mind. You throw that ball in center field and throw more gasoline into a fire."
Said Bernadina: "You don't expect it, but I was late. That's all I can say. I was late. It's not an excuse."
Before the game, Jerry Manuel suggested that when Luis Castillo is activated from the disabled list, probably immediately after the All-Star break, there likely won't be room for Tejada at the major league level. And, truth be told, Tejada doesn't have a stellar batting average (.243).
Still, how can a player who contributes such as Tejada really be dispatched to Triple-A Buffalo just because a player with a big contract needs to be activated from the disabled list?
If Manuel had his way, he might keep Tejada and jettison Castillo, who is due to test his bruised feet by beginning to play minor league games next week. But that's a front-office call.
"That's a veteran move by a young player," Manuel said. "He really has a good feel and understanding for the game. I've seen him in situations at the plate where when it's time to take a pitch, he takes a pitch. When he's trying to get a guy over, he gets the guy over. He's a very instinctive young player."
Tejada said he had not practiced the pickoff move before with K-Rod.
"Never," Tejada said. "First time."
As for blocking the base, he described himself as fortunate.
"I didn't think about that," he said.