PORT ST. LUCIE, Fla. -- Jordany Valdespin arrived at Mets camp Saturday and suggested he was not at fault for tweeting a photo of himself in a Marlins cap in December. (View here.)
The image irked some Mets fans.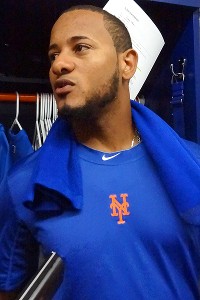 Adam Rubin
Jordany Valdespin speaks with media Saturday morning in Port St. Lucie after reporting to camp.
Valdespin said his cousin tweeted the photo without his knowledge or consent.
"Things happen," Valdespin said. "My cousin put that picture over here. I don't have any information about that. When I see that picture, everything happened, and I said, 'What the f---?' But I had a big problem with my family about that. So that's not my fault."
Because Terry Collins is not comfortable with Valdespin backing up Ruben Tejada at shortstop and because he is behind lefty hitters Lucas Duda, Mike Baxter and Kirk Nieuwenhuis in the outfield pecking order among lefty hitters, Valdespin has an uphill battle to make the Opening Day roster and most likely is ticketed for Triple-A Las Vegas to open the season.
Valdespin did set a franchise single-season record with five pinch-hit homers in 2012, but he noted: "That's not my game. My game is to stay on the bases, steal the bases, help the team how I can do it. That's my plan for this year."
He hit .241 with eight homers and 26 RBIs in 191 at-bats in his rookie season in the majors but had only a .286 on-base percentage. Collins was pleased that Valdespin did walk more in the second half of winter ball.
"They have the decision," Valdespin said. "I don't have control about that. The only thing I can do is play hard every day and then see what happens. … I won't get my head down if I don't stay on the team Opening Day. The only thing I can do is play hard and then go up. But my plan is to stay on the team Opening Day -- for the whole year."
Valdespin believes the ability to play second base and outfield should help him.
"I can play both. Second and the outfield is better for me because I'm a young guy, [have] a young career," Valdespin said. "If I can play both places, it's better for me. It's a better chance to stay on the team."