PORT ST. LUCIE, Fla. -- The summer David Wright succeeded Ty Wigginton at third base for the Mets, Wigginton found himself traded to the Pittsburgh Pirates.
A similar scenario could play out this season, as catching prospect Travis d'Arnaud waits in the wings to succeed John Buck, who only just arrived in the December trade featuring R.A. Dickey.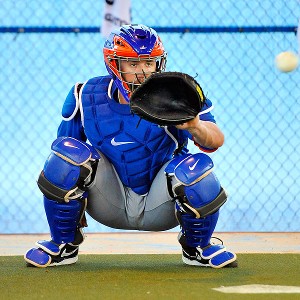 Brad Barr/USA TODAY Sports
John Buck may not have a long tenure as the Mets' No. 1 catcher.
"If I was wondering about that, I wouldn't be able to take care of my job," said Buck, who also could recede to a backup/mentorship role. "The experience I have had will definitely benefit me. … I'll lead by example and do the things I need to do and things will work out for the better. Whatever is supposed to happen will happen. If I'm doing the best I can do, I'm sure I'll be all right."
Buck, 32, isn't proud of his .192 average in 343 at-bats last season with the Miami Marlins, but a deeper look at the numbers is far kinder to him.
Buck did hit 12 homers. And he did have a .297 on-base percentage -- sixth-highest in the majors over the past half-century by a player to finish below the Mendoza line while logging at least 340 ABs.
Of the 202 MLB hitters to reach his at-bat total last season, Buck's .235 average on balls put in play ranked fourth-worst, better than only Russell Martin (.222), Casey Kotchman (.233) and Brian McCann (.234). Some of that might be attributed to a slow-footed catcher being less apt to leg out a ball in the infield, but it's also pretty unlucky. The median BABIP last season for players with at least that many ABs was .302.
"In the middle of the year somebody said, 'If the season ended now, you could be in the Hall of Fame,'" Buck recalled. "I was like, 'What are you talking about? I'm hitting .190 right now. What, for worst average?' They said, 'Close. For the worst [BABIP]. You're glaringly unlucky.' I said, 'Well, good, that makes me feel a lot better. I don't just suck.'"
Buck was traded to Toronto on Nov. 19 with Jose Reyes and Josh Johnson as part of the Marlins' latest fire sale.
The Dec. 17 trade to the Mets did not blindside him because Jays GM Alex Anthopoulos had warned him at the time of his acquisition that either he or catcher J.P. Arencibia would be on the move later that winter.
The Mets agreed to take on all of Buck's $6 million salary for 2013 as part of the trade.
As for once being in d'Arnaud's shoes, Buck once was the up-and-coming prospect in the Astros system, poised to one day take over for Brad Ausmus. Instead, Buck was traded to Kansas City in June 2004, in the deal that landed Carlos Beltran in Houston. (Beltran went on to produce a record-tying eight postseason homers to set up his seven-year, $119 million contract with the Mets.)
On the day the deal went down, Buck was with Triple-A New Orleans, in a rain delay during a matchup coincidentally with Kansas City's Pacific Coast League club. He heard his name being mentioned on the Astros major league broadcast. Then, his Triple-A manager, Chris Maloney, summoned him.
"All of a sudden, the manager came in and said, 'Buck, I need to talk to you,'" Buck recalled. "Everybody is like, 'You're gone.'"
Buck figured he would just swap Triple-A uniforms and play against his former teammates. The next day, though, Buck was making his major league debut for Kansas City manager Tony Pena, who had been one of his instructors a few years earlier in the Astros system.
"The next thing I know, I was catching the next day in the I-70 series against the Cardinals," Buck said.
On the second pitch of his first major league at-bat, Buck was convinced he had smoked a double down the third-base line off Matt Morris. Buck was so sure of an extra-base hit that he made an arc-like route to first base, preparing to round the bag and head for second.
Instead, Scott Rolen made a diving stop and threw Buck out at first base from his knees.
"Are the base lines curved in Triple-A?" his new teammates kidded him as he returned to the dugout. "I was like, 'That was a double yesterday -- a for-sure double yesterday.'"