PORT ST. LUCIE, Fla.
FIRST PITCH: Only a few more days of tedious activity, then games get under way.
The Mets have an intrasquad game Friday. They then open Grapefruit League play Saturday, with Shaun Marcum and Zack Wheeler on the mound against Stephen Strasburg and the Washington Nationals.
Wednesday's news reports:
• Outfield prospect Cesar Puello, who is in major league camp, as well as ex-Met Fernando Martinez have been linked to the South Florida lab that allegedly supplied performance enhancing drugs to professional ballplayers, ESPN's "Outside the Lines" reports. Read more in the Daily News, Post and Newsday.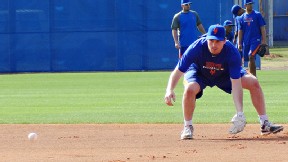 Adam Rubin
Daniel Murphy received a cortisone injection Tuesday, a major league source tells ESPNNewYork.com.
• Daniel Murphy received a cortisone shot Tuesday in New York for his ailing side muscle, a major league source told ESPNNewYork.com. Read more in the Record.
• Columnist Ken Davidoff in the Post notes Ruben Tejada has gravitated to Johan Santana during spring training because there's a comfort level in their shared Hispanic heritage. Davidoff notes that the Mets, often the most diverse team in MLB under Omar Minaya, now may open the season with few Hispanic players. The candidates in descending order of likelihood: Santana, Tejada, Frank Francisco, Pedro Feliciano, Jeurys Familia, Jordany Valdespin and Jenrry Mejia.
"I've wanted to put the best players on the field," Mets special assistant J.P. Ricciardi told Davidoff. "Not only in life, but if you put a team together, if you start to look at those things, you're really limiting yourself. I've been color-blind when it comes to a team. Sometimes, it's cyclical. Sometimes, you look up and you have more Latin players than you had in the past. Sometimes you don't. Sometimes you have more African-Americans."
• The Mets are eyeing the weekend for Francisco (elbow inflammation) to resume throwing a baseball, ESPNNewYork.com has learned. Read more on Francisco in the Star-Ledger, Daily News and Newsday.
• Feliciano threw batting practice Tuesday as he gears up to try to prove he's worthy of joining Josh Edgin as the left-handers in the Mets' bullpen. Read more at MLB.com.
• Jorge Castillo in the Star-Ledger profiles Greg Burke, whose decision to convert to a submarine delivery at the end of last year's spring training under the tutelage of Rick Peterson salvaged Burke's career.
• Marc Carig in Newsday notes Marcum was a college shortstop at Missouri State who dabbled as a closer. "He's smart enough to know that he doesn't throw 92, 93," said Ricciardi, who drafted Marcum while Blue Jays GM. "But he knows how to set up hitters and he's just got a pretty good idea of who he is and what he is on the mound. When you understand that as a player, it helps you get results faster than trying to be something that you're not."
• Catcher John Buck talks about his entrepreneurial side with Jared Diamond in the Journal. Buck discusses the case he developed with relatives and is selling online to protect wear and tear on catchers' gloves.
• Pitching coach Dan Warthen praised Buck to Kristie Ackert in the Daily News. "He got my attention right way," Warthen told Ackert. "He wanted to talk about pitching. He called me this winter and we met in Hawaii. He is on board 100 percent. He brings great ideas, things maybe I didn't think about that he has used in the past. We're sharing ideas nicely."
• David Wright tells Harvey Araton in the Times why he remained a Met, aside from the $138 million.
• Andy Martino in the Daily News writes about Terry Collins being in the last year of a contract:
Sandy Alderson's front office does not, as a rule, believe in dealing with a manager's contract in-season. I am told that it will take an extraordinarily bad situation, far worse than a losing record, for Collins to be fired during the year -- but it is also nearly impossible to imagine an extension before October.
So why didn't they protect him this past offseason by adding a year to his deal? That's where the PR element came in; it simply would have looked odd, the Mets believe, to have extended a manager after two losing seasons, even if he was well-liked.
• Outfield coach Tom Goodwin tells Mike Puma in the Post he won't have Lucas Duda play as shallow this year when Duda mans left field, since Duda was not comfortable doing so in right field in 2012.
• Mike Kerwick in the Record notes reliever LaTroy Hawkins is still going strong at 40 years old.
• The Braves will retire Chipper Jones' No. 10 on June 28, before a game against the Arizona Diamondbacks. Other retired Braves numbers: Hank Aaron (No. 44), Dale Murphy (No. 3) and Greg Maddux (No. 31). Read more in the Atlanta Journal-Constitution.
• From the bloggers ... A Star Trek homage as Mets Police imagines A-Rod signing with the Mets back in 2001. … Mets Merized focuses on Long Islanders/Mets prospects Steven Matz and Cam Maron and their New York roots.
BIRTHDAYS: Ex-Met Livan Hernandez celebrates a birthday. It's officially listed as No. 38. … Shane Spencer, who they still remember at Big Apple Pizza in Port St. Lucie (along with Karim Garcia), turns 41.
TWEET OF THE DAY:
To be fair Fernando Martinez probably needs 2 shots of steroids a day just to be able to walk. #mets #astros

— Joe Pontillo (@JoePontillo) February 20, 2013
YOU'RE UP: If Daniel Murphy needed to miss regular-season games, whom would you prefer log the bulk of the action in his absence: Justin Turner, Jordany Valdespin, Brandon Hicks, Wilmer Flores or Reese Havens?
Please use the comments section to weigh in