PORT ST. LUCIE, Fla.
FIRST PITCH: Let the games begin.
The Mets play an intrasquad game at noon today at Tradition Field (admission: $6). Scheduled to pitch: Gonzalez Germen, LaTroy Hawkins, Scott Rice, Collin McHugh, Elvin Ramirez, Greg Burke, Robert Carson, Brandon Lyon and Pedro Feliciano.
"In our particular situation, we've got decisions to make, I've got to start seeing people play," Terry Collins said. "And I'm anxious to see them play. Yeah, I want to get started."
Friday's news reports:
• Union chief Michael Weiner made his annual visit to Mets camp to speak with players Thursday. Speaking with the media afterward, Weiner said about the Mets' payroll: "Everybody would like to see the Mets as a competitive team. And it's going to require a higher payroll." Weiner also asserted David Wright would have received a more lucrative contract had he tested free agency. Writes Mike Puma in the Post on the Mets' payroll comment:
A team official responded to Weiner's criticism by saying the union chief should check the average payrolls of the last three World Series winners. The Giants (2010), Cardinals (2011) and Giants (2012) averaged about $106 million in payroll in claiming the last three world championships.
Read more on Weiner's visit in Newsday, the Daily News, Star-Ledger, Times, Record and MLB.com.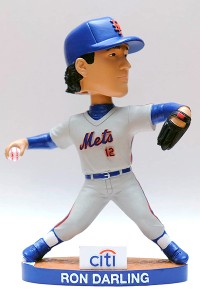 Courtesy of New York Mets
Ron Darling Bobblehead Day is coming to Citi Field on April 21.
• Jenrry Mejia is due to land Friday morning and be at camp by midday now that his visa issue is resolved. Dan Warthen and Wally Backman both project Mejia as a future reliever, but the right-hander will be a starting pitcher again this year … for now. Read more at MLB.com.
• The Mets announced their full 2013 promotional schedule, which includes five bobblehead giveaways: Ron Darling (April 21), John Franco (May 25), Wright (June 30), Dwight Gooden (July 21) and Tom Seaver (Aug. 25).
• Bobby Valentine reportedly will be the next athletic director at Sacred Heart University in Connecticut. Read more in the Connecticut Post.
• Ex-Met Chris Young signed a minor league deal with the Washington Nationals. Read more in The Washington Post.
• Mets farmhand Francisco Pena will play for his father Tony Pena on the Dominican Republic team in the World Baseball Classic.
• Grantland is not a fan of the Mets' outfield. On that topic, columnist Mike Vaccaro in the Post found humor that Bobby Bonilla, who is getting $1.2 million annually from the Mets in deferred payments, visited the club on Thursday. Writes Vaccaro:
The highest-paid outfielder in the room wears a green polo shirt, blue slacks, white cross-trainers and about 40 or so pounds from his last listed playing weight. Retirement seems to be agreeing with Bobby Bo, who last played for the Mets in 1999 (both baseball and, somewhat more famously, clubhouse cards) and who last played for anyone in 2001 and now works for the Players' Association.
• Neil Best in Newsday chats with SNY analyst Bobby Ojeda.
• Collins has good reason to be concerned about the Mets' baserunning the past two seasons, Jared Diamond notes in the Journal. Writes Diamond:
Their runners went from first base to third base on singles just 25.2 percent of the time last season, which ranked 23rd in baseball. They finished dead last in a statistic the website Baseball-Reference calls "bases taken," which counts the number of bases teams advance on, among other things, fly balls, wild pitches and passed balls. Those elements of baserunning have less to do with pure speed than they do instincts and hustle.
• Frank Francisco will begin tossing a baseball Monday after suffering elbow inflammation early in camp, Collins confirmed. Read more in the Star-Ledger and Daily News.
• John Buck offers his take on the various starting pitchers to Anthony DiComo at MLB.com. On Jonathon Niese, Buck said: "I like his cutter. It's something that wasn't really in my mind when I faced him on the other side. But now that I've seen a lot more film and concentrated on that aspect, and [hearing] him talk about how that makes him feel comfortable … it stuck out to me."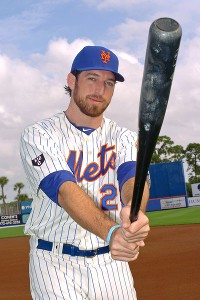 Steve Moore/Associated Press
Ike Davis• Jorge Castillo in the Star-Ledger profiles Ike Davis, who had an extremely slow start in 2012 en route to a 32-homer season. "Every time you come back from an injury and you don't do very well for a long period of time, you're like, 'Did I lose what I once had?'" Davis told Castillo. "You start second-guessing yourself. Then, obviously, I started feeling better and I said, 'OK, I can do this again. I didn't lose my talent or lose my skill.'"
• On Sunday against the University of Michigan, Dillon Gee will pitch in his first game since undergoing emergency surgery at last year's All-Star break to repair a damaged artery in his pitching shoulder. Gee did get on a bullpen mound in September at Citi Field to allay concerns. "I accomplished what I wanted to last year, and that was to be able to come here with some peace of mind," Gee told Andrew Keh in the Times. "Now I feel like I'm ready to compete again."
Said Warthen to Keh: "His delivery is a little bit awkward, a little bit rusty, and his command isn't where he wants it. But his hand feels good, his arm feels good and he can actually feel the baseball out of his hand. He'll iron out a couple of delivery issues, and we'll be right where he needs to be."
• Collins said left-hander Josh Edgin worked on a sinker during the offseason that should make him more effective against righty hitters. Lefties hit .164 and righties hit .263 against Edgin during his rookie season. Read more in the Post.
• Feliciano, who pitches in today's intrasquad game, tells Kristie Ackert in the Daily News about his shoulder: "I am ready now, ready to pitch. There is nothing there. It is strong. It's stronger than it was before, because before the surgery and after, I have to work on it. I pitched in Puerto Rico in winter ball and I am ready to go."
• Wright tells columnist John Harper in the Daily News he is "looking to become a better leader."
• Lucas Duda will receive heavy playing time early in Grapefruit League play because he is working on a new stance, Collins said. Mike Kerwick in the Record speaks with Duda about the challenge of playing the outfield for a natural first baseman.
• From the bloggers ... Faith and Fear in Flushing makes the case for retiring Nos. 31 and 17 -- and quasi-retiring some other significant digits. … Mets Police would like to see a TV show in which Howie Rose interviews ex-Mets. … Contributors to Rising Apple predict which Mets player is most likely to break out in 2013.
BIRTHDAYS: Former Mets reliever J.J. Putz turns 36.
TWEET OF THE DAY:
Driving down to Florida and seeing @you_found_nimmo singing to himself in the vehicle behind me #priceless

— Michael Fulmer (@MFulmer12) February 22, 2013
YOU'RE UP: Should Jenrry Mejia be a starter or reliever?
Please use the comments section to weigh in