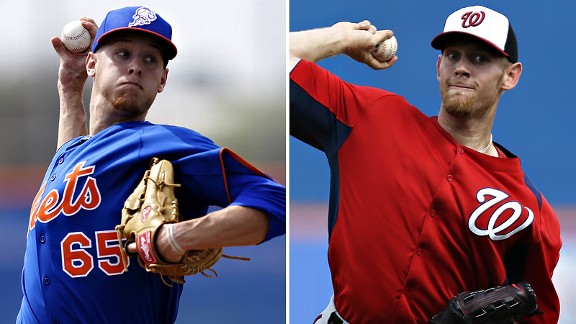 Associated Press
Dan Warthen favorably compared Zack Wheeler's Saturday to Stephen Strasburg's outing.JUPITER, Fla. -- Sandy Alderson lists his two greatest acquisitions while presiding over the Oakland Athletics as Dennis Eckersley and Bob Welch, the latter of whom was part of a three-team deal that landed Kevin Tapani and Wally Whitehurst in Flushing.
Will Alderson's July 28, 2011 trade that shipped Carlos Beltran to the San Francisco Giants for Zack Wheeler turn out to be a similar résumé-padding steal?
"Too early," Alderson said.
In his Grapefruit League debut Saturday in relief of Shaun Marcum, the 22-year-old Wheeler tossed two scoreless innings, allowing one hit and one walk while striking out two against the Washington Nationals, who started Stephen Strasburg.
Wheeler now makes his first spring training start on Wednesday, when the Mets return to Tradition Field to face the St. Louis Cardinals at 1:10 p.m. [Update: Wheeler has been scratched with an ab strain; he says it's minor.]
The comparisons to Strasburg already are pouring in.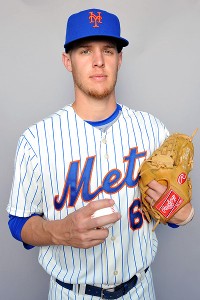 Steve Mitchell/USA TODAY Sports
Is Wheeler the real deal? "The stuff doesn't lie," teammate David Wright said."There are certainly similarities," pitching coach Dan Warthen said.
Added Warthen: "I don't know whether that puts pressure on anybody or not. Zack Wheeler is going to be Zack Wheeler. He's not going to worry whether he's Stephen Strasburg. Right now, if I know Zack like I think I do, he thinks he's better than Strasburg."
Where's the similarity?
"Body type. The free, loose arm. Everything is effortless. The great extension. The releasing the ball out front," Warthen said.
There is some science behind the comparison, too.
"We have an unbelievable new program called PitchTrack, where we put him side by side with Strasburg," Warthen explained. "According to the PitchTrack, his stuff was better than Strasburg the other night.
"It measures where you release the ball, from what height, how far on the rubber on one side or the other, how far you get out on the extension side, the depth of the pitch, whether the two-seam has a sixth-inch depth, a slider has a 12-inch break. It measures everything."
Wheeler often describes himself as "chilled" and unfazed by challenges, although he acknowledged being amped up for his first Grapefruit League inning, so much so that catcher John Buck and David Wright had to approach the mound to calm him.
Wheeler eventually produced consecutive strikeouts that frame to strand Steve Lombardozzi at third base after a leadoff walk.
"I like how he goes about his business," Wright said. "He's relatively quiet, but he's got that inner confidence about him that he knows he belongs. And stuff-wise, it's easy to see. He throws really hard and has good offspeed pitches.
"The only time I've seen him pitch, he got himself in a little jam and he was able to calm his nerves and get out of it, which I think is impressive for a younger player. I think it's a combination of the way he carries himself, the confidence that he has and then, obviously, stuff."
Wright, of course, has watched plenty of hyped Mets prospects not pan out over the past decade, including Fernando Martinez and Lastings Milledge. Why is Wheeler different?
"The stuff doesn't lie. The radar gun doesn't lie," Wright said. "I think sometimes, unfairly, guys get hyped and, for whatever reason, things don't work out. But I feel like some of the trades we've made, some of the guys we've gotten back -- personality and talent-wise -- I won't say it's can't miss, but they look pretty good."
Said Warthen: "This is the first time I've ever watched him pitch. What a treat. A nice, loose arm. The ball is on top of you. He spins the ball very well with the slider and the curve. He's having a little trouble getting to the [catcher's] glove side with his fastball right now, but that's not out of the ordinary. We worked on that a little bit yesterday. He's got a great work ethic. A great kid.
"He really thinks he belongs in the big leagues, which is a very nice asset."