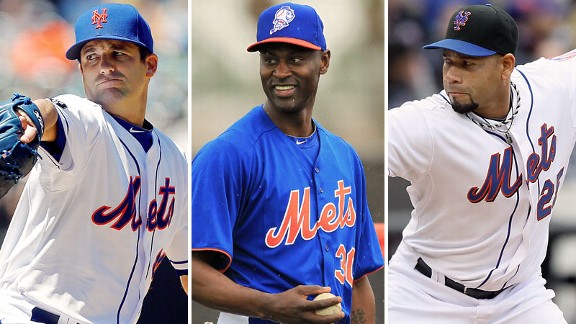 USA TODAY Sports
Tim Byrdak, LaTroy Hawkins and Pedro Feliciano all are entitled to early roster decisions.
PORT ST. LUCIE, Fla. -- Under the new collective bargaining agreement, a player with significant MLB experience the previous season who comes to camp the next year on a minor league deal gets an early decision on whether he has made the team.
Three players in Mets camp qualify, according to assistant GM John Ricco: LaTroy Hawkins, Pedro Feliciano and Tim Byrdak.
As a result, by noon on March 26, the Mets must either inform those players they've made the team, cut them a check for $100,000 to go to the minors, or release them.
Hawkins appears a lock for the team barring injury, even though he has yet to appear in a Grapefruit League game while he builds up arm strength.
Feliciano is a leading contender, but must demonstrate he can pitch somewhat near the level of his last tour of duty with the Mets.
The Mets, meanwhile, signed Byrdak knowing he would not be ready until the second half as he recovers from shoulder surgery, so the deadline is a non-issue unless Byrdak has a major setback in the next few weeks.
Scott Atchison, also on a minor league deal, does not qualify even though he spent all of last season with the Boston Red Sox. That's because Boston non-tendered Atchison during the offseason, negating his eligiblity.
The motivation for the rule is to give veteran players time before Opening Day to latch on with another team if they are not going to make the major league roster.