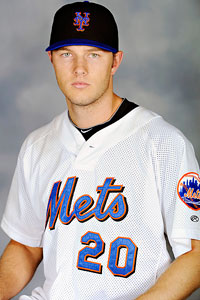 Courtesy of New York Mets
Erik Goeddel
PORT ST. LUCIE, Fla. -- Right-handed prospect Erik Goeddel, who was struck in the face with a thrown baseball, will avoid surgery and has no vision issues, Paul DePodesta said.
Goeddel was struck on the left side of his face Monday with a thrown baseball while covering second base during a drill.
He will be given time off to recuperate.
"Fortunately this one looks like it's going to be OK," DePodesta said.