PORT ST. LUCIE, Fla. -- Sandy Alderson placed the onus on Johan Santana for the southpaw's light offseason workload that left him out of pitching shape at the start of camp, but suggested the organization still hoped to get Santana ready for Opening Day.
Still, a day after Terry Collins named Jonathon Niese as the opening day alternative, Alderson called Santana being ready for Opening Day "less and less likely."
Terry Collins noted that if Santana opened the season on the disabled list, he might only miss one start, because DL trips are eligible to be backdated nine days into spring training. With an off-day on April 2, the Mets can have Niese pitch Games 1 and 5 if need be, with Santana eligible to be activated for the sixth game if necessary, on April 7 against the Marlins.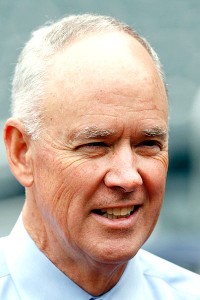 William Perlman/US Presswire
Sandy AldersonAlderson said team doctor David Altchek examined Santana during a recent visit to camp and deemed Santana's surgically repaired shoulder fine. The organization instead maintains the issue is Santana is not yet being in pitching shape. Santana has not been on a mound since Feb. 19.
"No. 1, what I've been asked the last day or two is: Is his arm OK? And, the answer to that is, yes, as far as we know, his arm is fine," Alderson said. "The second question is: Was he ready to pitch when he arrived at spring training? It seems to me it's self-evident that he wasn't ready to pitch at the beginning of spring training, since he hasn't pitched to this point. Beyond that, characterizing were we surprised, disappointed, unhappy, those are reactions I'm not really ready to get into.
"In the case of any pitcher who isn't ready to go in spring training, sure there's a little disappointment. But that's true with anybody in any situation, including we're not happy that Zack Wheeler pulled something, because he's not out there. OK, but is there any culpability associated with that? No, not necessarily. It just happened.
"So, from my standpoint, his arm is fine, as far as we know. Was he ready to pitch when he came into camp? No. Even he may have been a little surprised by that. So that leaves us where we are today. And where we are today is getting him ready to pitch as soon as we possibly can. We haven't rule out Opening Day, although given when we think he might get on the mound, it becomes less and less likely. We haven't given up on that notion yet. And we'll see where it takes us."
Alderson did put the onus on Santana for not having a more normal offseason. Santana laid off heavy preparation this winter to allow his body to recharge and apparently has had problems firing things back up. Santana turns 34 on March 13.
"Based on everything I know, he was feeling fine in the offseason," Alderson said. "What he did in the offseason, between the end of '12 and the beginning of '13, it was a little bit of an unusual winter for him. Not as unusual as, perhaps, the previous two winters [rehabbing]. He's coming off a hundred-and-something innings. He was shut down toward the end of the season. And the question is: What is the right approach going into the offseason coming into this year?
"From my standpoint, it should have been closer to normal than his previous winter, but that's a judgment he ultimately has to make about how he's feeling and what he thinks he needs to do to be ready. But, again, that's in the rear-view mirror. At this point we're getting him ready to pitch. And we expect that he'll be ready relatively soon.
"The next step is actually getting him on the mound. And that hasn't happened yet. And it probably won't for a good 10 days or so.
"Each individual is different," Alderson continued. "His circumstances were different for a variety of reasons, but he's a professional. Look, I'm not pointing fingers at the organization or Johan. We're dealing with the reality, which is he's not ready to pitch. He will be at some point. We hope that's sooner rather than later. If there are lessons to be learned, we'll certainly consider them.
"I think there was an expectation when he came in that he would be ready to pitch, but I think that was his expectation, too, regardless of the winter that he had. I don't think there was disagreement. I don't think there was a disappointment on our part, or an acceptance on his part that that's the way it would be. But it was clear over the first few days that he wasn't ready. So we're going to get him ready."
Said pitching coach Dan Warthen about Santana's arrival at camp: "We didn't want him to be in full pitching shape whatsoever. Maybe it was his misinterpretation that we didn't expect a whole bunch from him. I think he could have probably thrown a little bit more. But in the whole run of things, I still think he's going to be ready, the arm's going to be healthy. That's what is important."
Asked if he was disappointed, Warthen said: "Disappointed? It's Johan Santana. He knows how to get himself ready. Certainly you would have liked to have seen him throw a little bit more, but nothing more than that."