JUPITER, Fla. -- Kirk Nieuwenhuis was headed for a doctor's examination after suffering a left-knee injury sliding into second base on a steal in the seventh inning of Sunday's 6-4 loss to the Miami Marlins.
Nieuwenhuis downplayed the injury, hoping it was only a "bad bruise." But he slammed his helmet upon reaching the dugout and needed a cart to be transported from the dugout to the visitors' clubhouse beyond the outfield wall after the inning.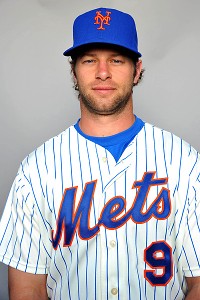 Steve Mitchell/USA TODAY Sports
Kirk Nieuwenhuis left Sunday's game with a left-knee injury.
"I probably could have limped, but it would have taken me a while," said Nieuwenhuis, who could barely bend the knee postgame.
Nieuwenhuis said he thought his knee ligaments were intact, although Terry Collins said there appeared to be some looseness in the knee.
"It was on the slide," Nieuwenhuis said. "I just hit it on something. Hopefully it's just a bad bruise. When I went to go take my lead, it just kind of buckled a little bit, but I think the ligaments are OK. I haven't seen a doctor yet, but I think I just have got a bad bruise. … I don't think it's that bad."
Said Collins: "It was kind of giving away a little bit, so we'll have him looked at when we get back."
Nieuwenhuis' departure prompted Collins to use Zach Lutz in the outfield for the first time as a professional. That was the intention later in spring training anyway. Lutz handled a flyout in his first inning of duty in left field on a windy afternoon.
Even before the injury, Jordany Valdespin's strong Grapefruit League start had made him a candidate to unseat Nieuwenhuis as a lefty-hitting outfielder -- although Collins has yet to use Valdespin outside of second base during spring training.
If Valdespin does not displace Nieuwenhuis, he likely would have to beat out trade-candidate Justin Turner, since Valdespin is not viewed as a shortstop. (Omar Quintanilla appears to be outplaying Brandon Hicks for the backup shortstop role, although Hicks is the player on the 40-man roster.)
Early in Sunday's game, starter Dillon Gee benefited from a highlight-reel catch from Nieuwenhuis, on a diving effort deep in right-center that robbed Juan Pierre of a leadoff hit in the bottom of the first.
"That's a Web Gem right there," Gee said. "Him and [Matt] den Dekker really can chase them down, can't they? I went into the dugout after that and gave him a big ole hug."